The new team settles in for another big episode with tons of game discussion and a brand new old character.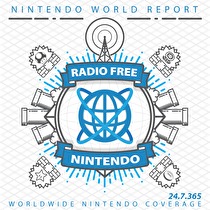 Subscribe via iTunes (Please rate and review, too!)
All this can be yours for only twelve neo-shekels!

James, Greg, Jon, and Jonny are back for another extended New Business covering many games and several tangents. We also dipped into the listener mail for some thought-provoking questions; please keep those coming! There's even a bit of news discussion in which we manage to avoid ranting on NPD numbers for too long.
With this episode, we're also proud to introduce a new old character, who will hopefully be returning often with updates on his kooky gaming exploits. There's a whole new old generation of gamers playing the Wii, and Grandpappy Gamer is here to bridge the age gap and bring a new old era of peace among our tribes. Or something.
Credits:
This podcast was edited by James Jones.
"Grandpappy Gamer" skit was written by Jonathan Metts and performed by Jon Lindemann.
Music for this episode of Radio Free Nintendo is used with permission from Jason Ricci & New Blood. You can purchase their new album, Rocket Number 9, directly from the record label, or download it from iTunes, or call your local record store and ask for it!