In all fifty-something episodes I've been in, this is, without a doubt, the most epic of the bunch.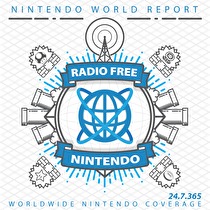 Subscribe via iTunes (Please rate and review, too!)
Seriously, we're all going to hell for M.C. Kids.

Back in the early days of Radio Free Nintendo, the show had a strict PG-13 rating to adhere to. No cursing, no suggestive themes, and if we cracked during recording, it was edited out. We wanted to be seen as professionals, and as such, this had to be the way things were done.
But that's just so boring.
If you're a long-time listener, this show will either be the best you've ever heard, or the worst you've ever heard. Crass language, oh-so-suggestive subject matter, and then there's Hermione Granger... Yeesh.
Discussed within, besides all of the M-rated stuff, is the confirmation that Smash Bros. is online, the new Virtual Console releases, and a feature on a couple of gaming-related movies that we've recently seen. It's a tour de force that you simply CANNOT miss.
Credits:
This podcast was edited by Karl Castaneda.
Music for this episode of Radio Free Nintendo is used with permission from Jason Ricci & New Blood. You can also purchase their album directly from the iTunes Music Store