All these years later, Game Boy platforming on 3DS stills feels pretty satisfying.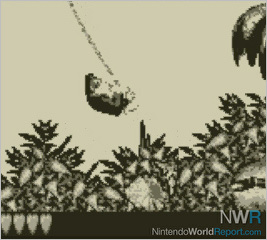 The Donkey Kong Country series made a huge splash on the Super Nintendo. The challenging gameplay, great music and beautiful graphics helped cement the game in gamers' minds and make it a classic. Donkey Kong Land, known as Super Donkey Kong GB in Japan, sets out to replicate what was done in the original games, in a scaled down, black and white portablemanner. The results are surprisingly impressive.
Aesthetically, Donkey Kong Land makes for a great visual and aural experience. Although the color palette is limited with the Game Boy technology, Rare did a great job bringing the game to life on the hardware. Character sprites look great and the backgrounds are detailed enough to still have the feel of the home console big brother. Unlike some earlier Game Boy titles, the camera is zoomed out just enough to give you a good view of incoming enemies or treacherous jumps. The music in the game is also fantastic and contains essentially 8-bit versions of songs that were included in the original game.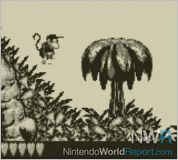 Controlling Donkey and Diddy Kong is simple and generally feels pretty good, but can sometimes be a bit slippery and can sometimes result in some cheap deaths. These are few and far between and could result from some of the levels being genuinely hard more than the game cheating the player.
Donkey Kong Land is a moderately challenging, albeit short, game with great visuals considering the technology. The great music adds to the experience that gives gamers a true handheld version of its console brethren. If this title comes out in your region, it is totally worth throwing down for it.