Back for the first time.
This seems weird, doesn't it? Darksiders is/was an excellent Zelda-inspired character action game that was initially released in 2010 for the PS3 and Xbox 360. While it borrows heavily from other games (there's even a Portal gun), Darksiders managed to forge its own path largely through the brilliant character designs of Joe Madureira. It never came to a Nintendo console. In fact, a sort of Game of the Year edition of Darksiders II launched with the Wii U—you may recall that I reviewed it for this very website back then. Our story moves forward to the present day: THQ has remastered—I'm sorry—warmastered—the 2010 original for modern consoles. Well, not the Switch; that would make sense. This enhanced port is for the Wii U.
If you've never played Darksiders, I highly recommend it. You play as War, one of the four Horsemen of the Apocalypse, who is framed in the game's opening sequence for beginning Armageddon early. Brought before his bosses, the "Charred Council," War swears his innocence and that, if returned to Earth, he will find the real culprit. The Council agrees, and War is sent back to Earth along with a chaperone: "The Watcher," tasked with keeping War on task. The Watcher is voiced by Mark Hamill doing his Joker voice, which is always entertaining.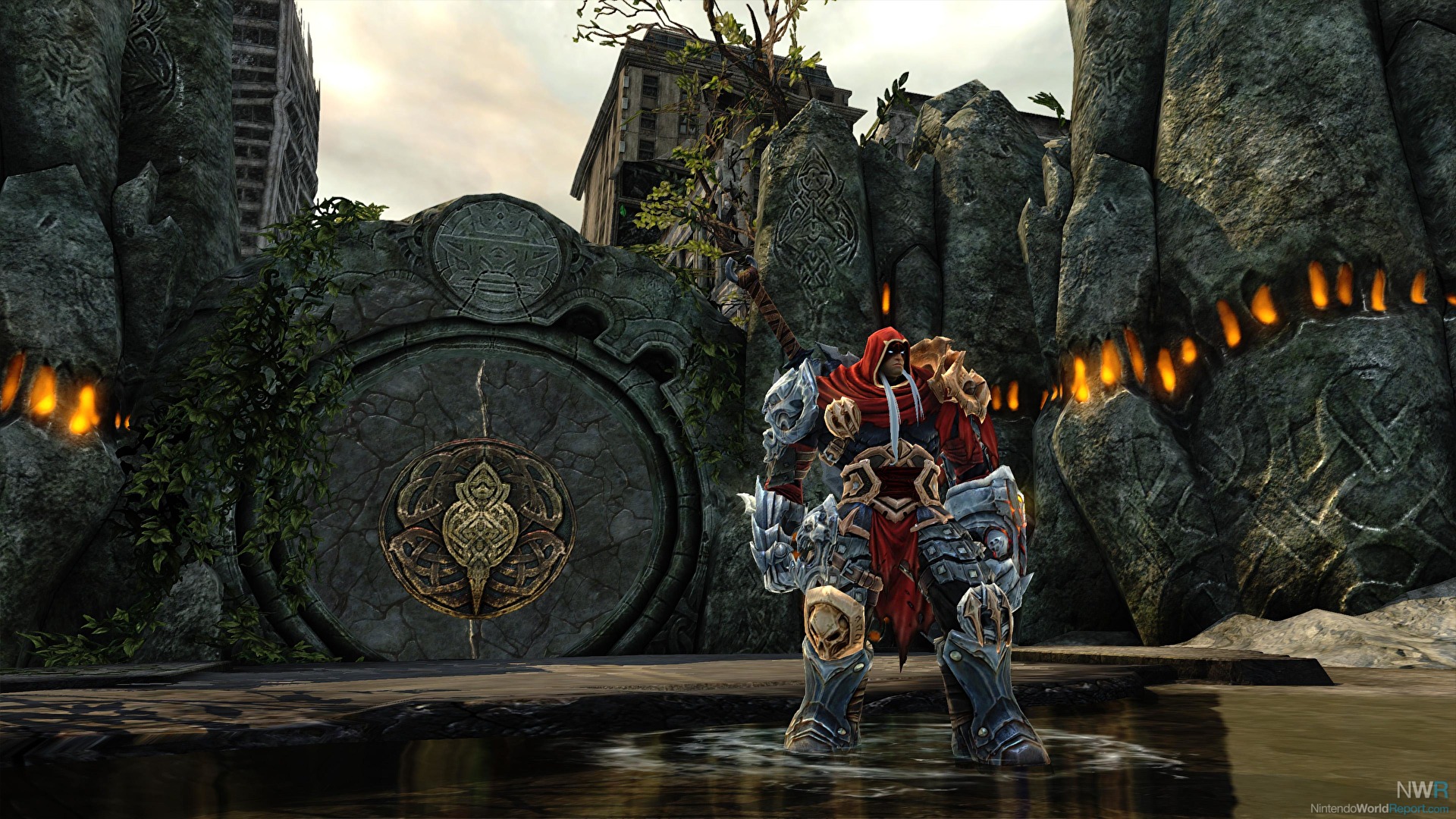 War travels a fairly small (but pretty) overworld in an effort to reach four dungeons. You'll constantly spot blocked paths that new equipment will doubtlessly breach. The dungeons are the most Zelda thing about Darksiders—they contain keys, switches, maps, and equipment that you use to "solve" the dungeon and beat the boss. The first dungeon holds a Predator blade that functions as the Wind Waker Boomerang. You'll find the Darksiders equivalent of Pieces of Heart as well as analogous items that increase your magic meter. I forgot how long and complex the dungeons are, but they are always enjoyable and I was rarely stuck.
While the game's overworld and dungeons are pretty much ripped from Zelda, the combat has more in common with something like God of War or Bayonetta. War starts things off with his enormous Chaos Eater sword and eventually finds ways to augment its power and the power of other weapons that he eventually brandishes. These weapons level up with use, and you can purchase new abilities from the demon merchant Vulgrim—voiced by Phil LaMarr but, let's be honest, really should be Keith David. In addition to your increasingly-robust melee arsenal, War also accrues magic attacks which can be helpfully hotkeyed to the ABXY buttons. One of my only real complaints about the game is that, like so many character action games, there are way too many attacks and button inputs to keep in mind. I often found myself unable to remember how to access my magic attacks or some of the more complicated melee attacks. Sure, part of that is I'm getting old, but there's something to be said for Zelda's comparatively simplistic combat.
As I said before, the game would be derided as a knock-off was it not for Joe Mad's crazy character designs. Any random screenshot from Darksiders could be the album art for a heavy metal record. The demon lord Samael, in particular, is incredibly awesome and I wish he was in the game more. Darksiders does boss fights really well—bosses are huge and the fights are intense. The game has one gigantic, pus-oozing open sore: the griffin segment. On his way to the first dungeon, War commandeers a giant griffin and plows his way through a legion of angels and demons through subterranean tunnels. The griffin's movement is independent of its aiming reticle, so you're already using two sticks in addition to locking on to multiple enemies and firing when ready. It's already somewhat unnatural, given that you expect things to be a bit more like Star Fox (aiming where you're pointing), but here's the real curb-stomper: while you can invert the X/Y axes for aiming, you cannot invert the X/Y axes for flying. The result is maybe the most mentally paralyzing control scheme I've ever experienced in this sort of game. It's unforgivable. This was a problem in the original game as well and I'm flummoxed that nobody thought to fix it for the remaster—sorry, warmaster.
Thankfully, there's only one griffin segment and it's relatively short. But dear god, why?
I forgot how large and complicated the dungeons are, but they train you to do things with your equipment that you otherwise might not consider. Thankfully, you will not need to return to any given dungeon with later equipment to find all the treasure chests; this is something I always worry about and it's not the case here. That's not to say you won't be re-traversing sections of the overworld to pick up things you might have missed, because there's plenty of that.
Aside from the griffin sequence, there's not a lot holding Darksiders: Warmastered Edition down. It remains an excellent heavy metal homage to Zelda games that's satisfying and quite lengthy. I enjoy it more than its sequel, although that's also a great game. The only real downside is that this game is on the Wii U, not the Switch, so it probably won't get the attention it deserves.