Not to be confused with its sequel Kick Space Eruption.
Super Smash Bros. is a lot like the cliché of "often imitated, never duplicated." There have been a lot of fighting games trying to ape its style, but they're never as good or even on par with Nintendo's legendary fighting series. Cartoon Network Punch Time Explosion on 3DS is probably the closest I've seen to a duplication of the Smash Bros. series. It's not quite on the same level, but it does a marvelous job taking the mechanics and placing them into a new license.
That license is, of course, Cartoon Network. With 18 playable characters, there are a wide variety of shows represented ranging from Ben 10 and Samurai Jack to Dexter's Laboratory and The Marvelous Misadventures of Flapjack. While due to the sheer number of franchises they encompass there is likely a character missing that you'd love to see, the representation across Cartoon Network shows through the years is solid.
The gameplay is solid, with a lot of similarities to Super Smash Bros. You can do smash attacks, use each character's special attacks, and unleash a Final Smash-esque move. If you've played Brawl, it shouldn't be too unfamiliar. The controls are good, but not quite as smooth as I'd like. The primary issue is that the jumping is a little bit difficult to use effectively as it is extraordinarily floaty. Still, it doesn't detract from the overall experience.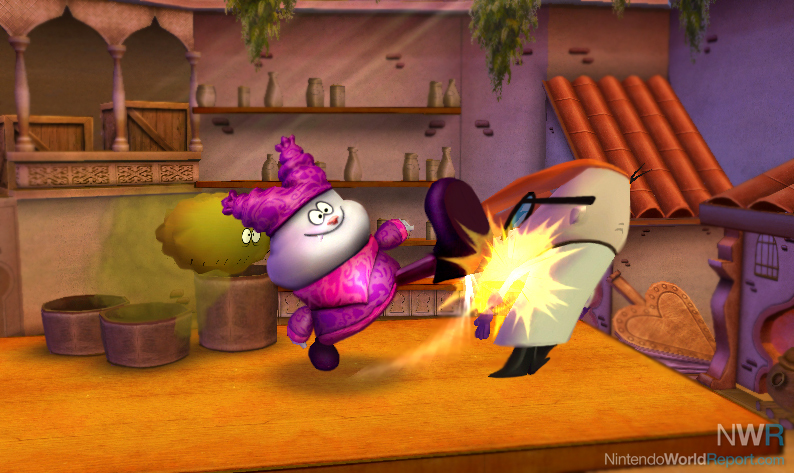 On the off chance you ever have three other friends with copies of the game, the multiplayer is a lot of fun. Even if you only have one copy of the game, you can play multiplayer on one level with four different characters. It sucks that there is no online, but online multiplayer for this type of game is a wholly different experience, as part of the fun of Smash Bros. and Punch Time Explosion is being able to taunt your opponent in person when you successfully knock him or her off the stage.
The single-player is shockingly fun, as it is structured more like a beat-'em-up than a fighting game. Unfortunately, the regular enemies take way too much time to defeat, and you're better off skipping past them if you can. There are some nice diversions in the single-player as well; for instance, you'll be using the touch screen to use a slingshot and using a ship's artillery to fight off an onslaught of enemies. The story is shoe-strung together by using Dexter's time machine Bill and Ted-style to travel through a variety of different worlds collecting new friends along the way. It's got a lot of content, and seeing the distinct locales from each show gives it variety.
Cartoon Network Punch Time Explosion is a wonderful example of how to make a good Smash Bros. send-up. It's not quite as polished as Nintendo's premier fighting franchise, but it is a fun experience with an entertaining and interesting single-player mode, as well as amusing multiplayer, if you can find the people around to play it.