Does this game get an MVP award or time in the penalty box?
Mario is no stranger to the world of sports. From kart racing to tennis and beyond, Mario and friends have shown great finesse at these athletic events. Despite this, there are still some sports they have yet to tackle, such as dodgeball and volleyball. Square Enix seeks out to remedy this with Mario Sports Mix, a compilation title featuring two new sports for Mario to dip his feet on, as well as two familiar to the plucky plumber. Some fun can be had, but the overall mix is filled with disappointing results.
Mario Sports Mix is the spiritual successor to Mario Hoops 3-on-3, also developed by Square Enix. That title is known for its innovative use of touch screen controls, but Mario Sports Mix does away with the control technicalities, adding in three additional sports and online play.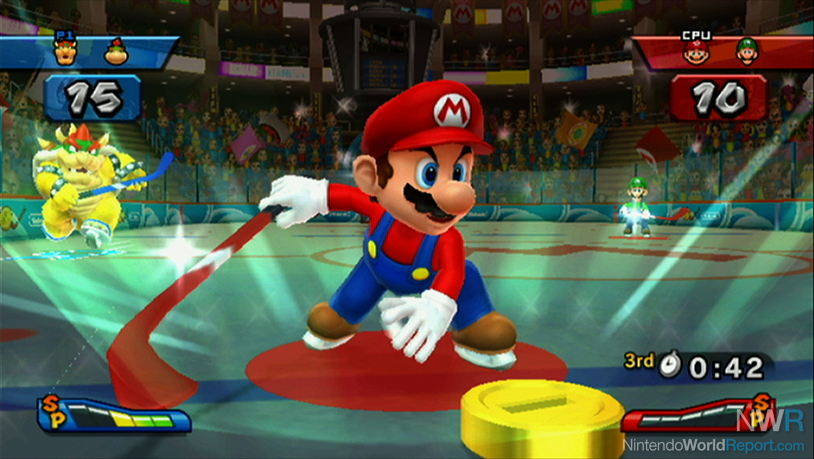 Mario fires up an attack in hockey.


Even if the game features four different events, all of them present the same core gameplay mechanics. The controls, largely the same for each game, make use of the Wii Remote and Nunchuk, as well as the Wii Remote on its side as an alternative.
You can choose to play all events as 2-on-2 and 3-on-3 with the only real difference being that there are more characters on-screen. If you collect coins during any of the events when you score the coins you have collected will be added to your total score. You can also use power ups on your opponents, as well as unleash character-exclusive attacks that are colorful and expected of a Mario sports game.
This unfortunately results in one of the game's major weaknesses. All four events, despite their difference in rules and how gameplay goes, use the same engine as well as controls, making them play too similarly to each other. Pace of gameplay can also be a bother. Both basketball and hockey play very fast and smooth, while volleyball and dodgeball play the slowest. There are no additional rules you can tweak to your liking, such as gameplay length, turning items off, etc. Finally, difficulty is also a notable issue in Mario Sports Mix. Even in its challenging settings, the AI opponents barely put up a fight as powerful attacks can be used a lot in order to get ahead in the game.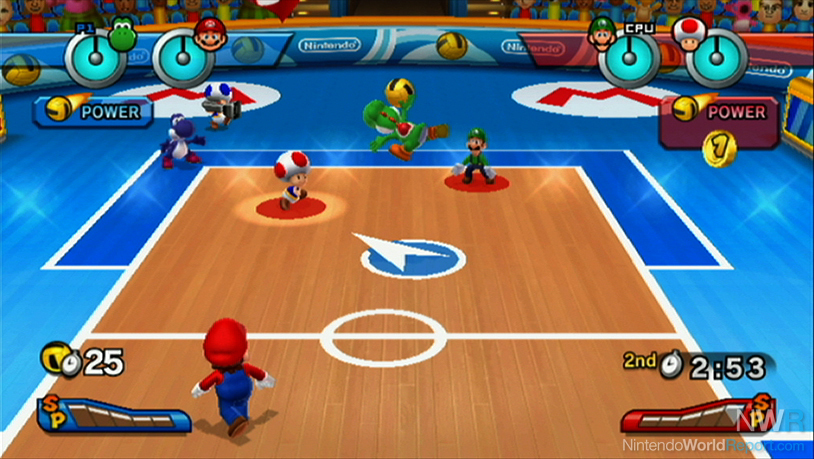 Dodgeball, minus the sting and pain.


The content in Mario Sports Mix is of uneven quality as well. All four events feature the same gameplay modes: Exhibition and Tournament Mode. The main perk behind Tournament Mode is that you can unlock new courts and characters. The problem here is that you must unlock the characters and courts for all four events individually, meaning that you will be playing the same matches over and over until all characters are available in all four games. It results in a very tedious method of content unlocking.
There are also some mini-games that provide some brief diversions, with an emphasis on brief. There are four of them, one based on each of the sports in the game. You feed Petey Piranha fruit in a game of basketball, as well as use your hockey puck to knock the other players out. They are fun, but lack longevity.
Fortunately, the game does offer solid multiplayer modes. All four events can be played with up to four other players, and you can participate in online matches as well. Online can either be played with a friend using friend codes or random matches. Mario Sports Mix shines in this area as events become more fun and exciting with the presence of human players. As is common in most Mario sports games, multiplayer is where the game's value lies in.
This being a Square Enix game, the game shines in terms of presentation. The characters resemble their past appearances in other Mario sports titles, but are very detailed and feature nice texture-shading. The courts are easily the best thing about the overall graphical presentation, thanks to some very imaginative designs that pay tribute to both Mario and Final Fantasy titles. The animation and frame rate are very smooth, and even when a character is doing a powerful attack, it hardly presents any on-screen slowdown.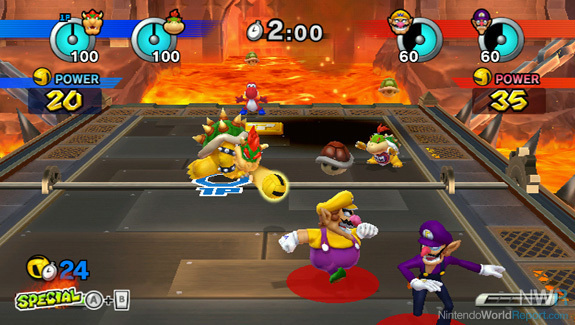 Either dodge the ball or fall into the fiery lava.


Music is also a solid element in the title. The original compositions throw in classic Mario sound effects for a very nostalgic feel, and with Mario Sports Mix featuring Final Fantasy characters, some classic Final Fantasy themes are featured as well. As expected, the character voice samples are repetitive, but do add some character to the game.
Overall, Mario Sports Mix is a decent title that serves well as a rental. The game mechanics are solid, and there is fun to be had in the multiplayer mode. Unfortunately, all four events feature the same mechanics, creating a feeling of redundancy while playing. The lack of additional modes and endearing mini-games also aid in making Mario Sports Mix a fun try but not a lifetime investment.