Can expanded gameplay features and a robust online sharing mode make a highly celebrated game even better?
The original Boom Blox was released in May of 2008 to much critical appraise. The collaboration between popular third party developer EA and the celebrated film director Steven Spielberg proved to be much more than a fluke when Boom Blox managed to combine the sophistication of physics and the charm of creation and destruction. A year later, a sequel is already among us. Boom Blox: Bash Party hopes to take everything that made the original title a critical darling and expand its physics by adding new stages and creating more robust stage creation options and online sharing modes.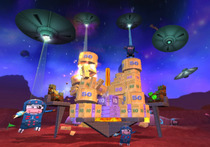 Boom Blox was an idea born out of Steven Spielberg's desire to create a game that would include everyone in the family and every gamer, no matter their level of skill. Combining the universal appeal of building blocks and the fun of their destruction, Boom Blox went further with this basic idea. Each stage has the core idea of destroying a set of blocks. This, however, changes according to the blocks used, altering the mission objectives. For example, a stage might consist of bomb blocks and the level objective would be to destroy all of the blocks with a limited set of balls. The less throws you make, the better you do in the stage. At other times you are required to carefully remove a block without touching a penalty block to achieve the desired score. Other blocks you might encounter include vanishing blocks, which disappear when hit by a ball, and chemical blocks that explode when two of them touch.
The stages are deepened by the presence of real-time physics which plays heavily into how each mission is beaten. One throw can be enough to topple a whole tower of blocks, while sometimes you have to be more creative and do a series of throws in order to achieve the desired effect. This proved to be a winning formula that charmed many gamers when the game was released last year. The good news is that not only does Bash Party retain this charming formula; it is further expanded by new additions.
The first of these are underwater and outer space stages, complete with their own physical properties. Block pieces will float and be affected by the low gravity pull, which adds an element of strategy, since every move will be affected by the new physics. In other words, if you thought seeing a tower of blocks fall down was cool, seeing all the pieces scatter across space will make you giggle.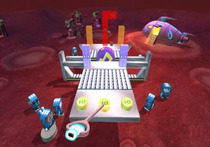 There are also new toys to interact with the blocks, such as the slingshot. There are also new blocks, like the virus block whose explosion causes other blocks to get "infected" and explode. Finally, there are awards and achievements the player can earn while playing the game. In the case of achievements, they happen when certain conditions are met during gameplay, like destroying a set number of blocks.
There are three main modes in Bash Party. The first is the solo mode, which works as the game's main single player mode. It teaches the basics of Boom Blox. Once players finish the training stage, they will explore a theme park called Adventure Land with different themed sections, such as the circus and pirate world. These sections have up to six stages with different missions to accomplish. These stages serve as a training ground for players to better understand the ideas behind the physics employed and the blocks they will encounter in the other modes.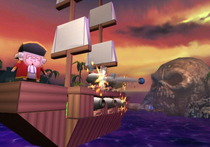 It is in solo mode where players will find one of the most popular modes in the first Boom Blox: the stage creation mode. This mode touts that the tools players use to create their own stages are actually the same ones the developers used during the development of the game. Despite its steep learning curve, the stage creation mode proves to be very in depth and flexible. Players can literally create whatever their hearts desire and use the game's own rules to create their fun multiplayer sessions. The desire to be creative is encouraged greatly thanks to the online sharing mode. Players can upload their creation to EA's servers. Their friends can not only download their stages through WiiConnect24, but they can also download hundreds of other stages, which are under different categories that range from multiplayer stages to free for all stages created just for the fun of it.
Finally, there are two additional multiplayer modes. Head to head mode pits players against each other in a series of mission based stages, and co-op mode has the players working together to complete a stage, a mode exclusive to Bash Party.
Bash Party does very little wrong, but sadly there are some warts, though small ones at that. As in the first Boom Blox, Bash Party works best as a multiplayer game befitting Steven Spielberg's social play aesthetics. Single player is competent enough that players can get a lot out of it, but it can get repetitive, especially after long periods of time. As previously mentioned, the stage creation mode is very deep but quite complex. The complexity of the tools might be too overwhelming for the inexperienced. Finally, its biggest virtue is also one of its biggest drawbacks. While the game does keep the design and formula that made the first game a hit with the Wii fanbase, it does very little to freshen the experience. If you have played the original title to death, Bash Party might feel too similar.
Regardless of its faults, Bash Party is a winner. The joy of destruction is carried successfully into the sequel with enhanced physics that deepen the experience, along with the addition of new blocks and tools. The stage sharing and creation mode create a nearly endless replay value that is only limited by the player's imagination, and multiplayer once again makes this a must for social players. This is a party you won't want to miss.