Forgeries, murder, alcohol, pink bunny rabbits… welcome to Hotel Dusk.
Nintendo is wise to market Hotel Dusk: Room 215 as an interactive novel. Not only is it more likely to draw in the non-gamers who are looking for something more than Brain Age, but it also tells the gamers: you will read a lot.
The story follows Kyle Hyde, a former NYPD detective who left the force three years ago after his partner betrayed him and disappeared. He now works as a door-to-door salesman for a company called Red Crown. However, there's more to Red Crown's business than selling household gadgets, and from time to time, Kyle's boss will call on his sleuthing skills. Kyle is sent to Hotel Dusk to nose out some items for a client and he finds that the old dive may also hold the clues he needs to find his missing partner. He sets out to uncover the shady history of the hotel and learn what the other guests are doing in a place like this.
When playing Hotel Dusk, you hold the DS sideways like a book. If you're right-handed, the touch screen will be on the right, or if you're left-handed, it will be on the left. The entire game can be played using only the touch screen, but you can use the buttons to walk or to advance a conversation.
As you walk around the hotel, the touch screen displays a simple top-down diagram of the room while the other screen gives a first person 3D view. If there's something worth looking at, the examine button will light up, allowing you to move the 3D view to the touch screen and poke around.
As in most adventure games, you combine seemingly random items to solve puzzles and find clues, but in Hotel Dusk some puzzles take advantage of the DS hardware (spoiler)by making you do things like twist the screen or close the system. On top of that, a significant portion of gameplay is found in the conversations you have with other people. You'll routinely need to ask questions, and you can lose favor with characters or get booted from the hotel if you make a poor assumption or give away that you've been snooping where you don't belong.
One really nice touch is the included notebook. If you need to jot down information like numbers related to a puzzle or an appointment you've made with a character, you can just scrawl it out by hand. This comes in especially handy before you save because you can just write a note to tell yourself where to go whenever you get back to the game.
The art style adds a unique flair to the game. While the environments are in full-color 3D, characters are presented via animated pencil sketches. Even while someone is standing still, the shading shifts back and forth to give the impression of movement. Some scenes add dabbles of watercolor on top of the sketches, and flashbacks are presented with a film grain effect. With the sideways orientation of the DS, these hand-drawn sketches really have a chance to shine and the style really does bring life to the characters.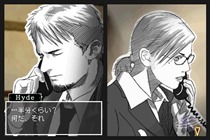 Hotel Dusk: Room 215 is somewhat more mature than its predecessor, Trace Memory. You won't be finding a bloody mess on the floor or anything, but the story is more grown-up (no more silly devices that look like DS hardware) and the script is packed with profanity, befitting its rough characters. It has some light and touching moments as well, but many of your dialogue choices range between being a little abrasive and acting like a total jerk.
Once you've finished all ten chapters, you'll be left with a few loose-ends, giving the story a mixed sense of resolution. It's not likely that you'll start over right away when you finish it, but there are multiple endings and some elements, like numbers, change in certain puzzles. Plus, when you replay the game, you can speed through the text faster.
While Hotel Dusk probably won't go down in any halls of fame, it's a solid entry for the DS and a welcome step up from Trace Memory. There's a lot more dialogue than some adventure players may be used to, but the characters have wonderfully distinct personalities. (Who doesn't love an old woman with an eyepatch drinking at the bar?) Here's to hoping Kyle Hyde's detective work won't end here.