Fluidity disables the 3D on the 3DS, but it brings the same water-controlling madcap fun to the portable world.
A while back the esteemed Jonathan Metts hit me up to recommend a WiiWare title called Fluidity. I had played the game at a previous PAX Prime, and was eager to try out the final version. The game was enjoyable, and while I never finished it, it's one of those games in my backlog that I've been meaning to revisit. Now, Curve Studios is back with a follow-up titled Fluidity: Spin Cycle, which refines some of the elements of the original, and makes the overall game much more suitable for portable play.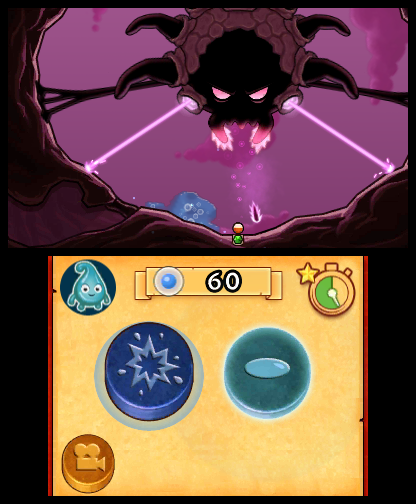 As the story goes, a wizard had a book with beautiful pictures that he wanted to bring to life. By utilizing magical rainbow spirits, he was successful, but unfortunately pesky evil goop ruins the fun and messed everything up. By utilizing the awesome power of water, your job is to rescue the rainbow spirits and rid the world of evil goop.
If you played the original, what's immediately noticeable is the change in art style, and Spin Cycle has a distinct old storybook aesthetic to it, which is quite charming. Levels are broken down into different blocks or areas – much like a comic book. By tilting the 3DS, you tilt the world that moves your pool of water. By manipulating your water through different ramps, passageways, and jumps, you'll locate stranded water drops, the missing rainbow spirits, as well as puzzle pieces. Abilities, such as gathering your water into a tight pool, are back in and now mapped to a button on the touch screen, and the representative on hand also mentioned water, ice, and vapor forms will return later in the game as well.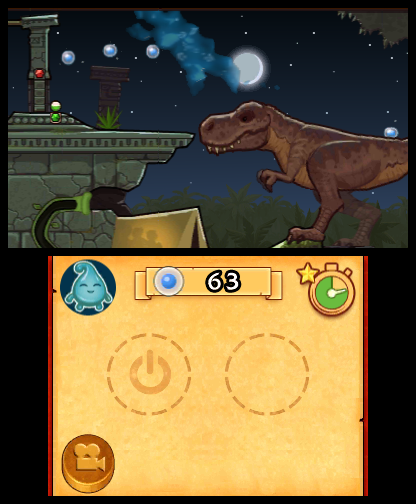 One of the new key moves is being able to completely rotate the 3DS in 360 degrees, allowing for you to pilot your water mass through new looping and twisting canals and shafts. 3D has been completely disabled for Spin Cycle due to this new control mechanic, and while you can actually rotate the 3DS, I learned that tilting the 3DS downwards gave the same desired effect while also allowing for better control. The levels in the demo reflect testing this new mechanic, as well as bringing back the basic moves, such as jumping over chasms (Jump is mapped to pressing L and R), destroying pools of goo, and pooling water to trigger switches that unlock doors. For now, it seems levels are now laid out sequentially (level 1, level 2, etc) with Spin Cycle, and you're actually now rated (1-5 stars) on how much water you end up with at the end of a level.
Spin Cycle is shaping up to be a fantastic sequel, and seems to really refine and sharpen the concept of Fluidity. I like that the levels are sequential, which will reduce having to scour the map for an elusive missed open door. The visuals are much more organic, and feel much more alive than what I experienced in the original Fluidity. The controls are what really feel great, and although the 3D was ditched for Spin Cycle, I hope that the new level designs and rotating mechanic more than makes up for it.