This game is bananas.
I had a chance to play Donkey Kong Country Returns at Nintendo's offices earlier this week, traversing a selected set of stages from the game's first three worlds, Jungle, Beach, and Ruins. In many ways, DKCR is the antithesis of Kirby's Epic Yarn; it offers players plenty of ways to die, and some stages almost have more pits than platforms.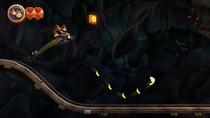 DKCR readily captures the vibes from previous Donkey Kong Country games, particularly the first, and also Donkey Kong 64. Specifically, the game features region settings similar to the first game, including its alliterative level names, but its goofy humor is more akin to more recent games. However, there is much new to the game as well. For starters, there are no Kremlings in the game, which instead features an all-new array of zany enemies controlled by a band of Tikis. One especially ridiculous-looking one was a deranged chicken on stilts.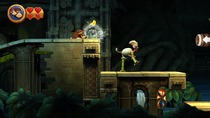 The game takes cues from the original all the way down to the slipperiness of control. The difference is that there is an even greater focus on platforms, presenting many opportunities to basically trip to your doom. At E3, I found the motion controls unintuitive, making the game harder to control than it should be. Nothing has changed since then, though other, unspecified control schemes are promised for the final version. While shaking the controllers makes sense for the ground pound, rolling is more of a hassle and imprecise when needing it to quickly get out of sticky situations. The flame-extinguishing blowing mechanic (hold down plus shake) suffers from similar problems. Another new feature is the ability to cling to grass-covered walls and ceilings while pressing B.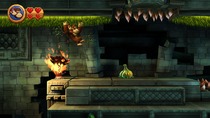 You can switch between single and multiplayer before starting each level. Each character retains their moves from the original, but Diddy also has his jet pack and peanut pop-gun from DK64. In single player, the combination of DK and Diddy effectively gives you four hit points, two for each simian. One benefit of two-player mode is that Diddy can shoot his peanut gun while riding on DK's back; the jet pack control is thankfully relegated to DK averting a coordination disaster. Diddy's shower of peanuts, coupled with DK's attacks make a great combat pair, however platforming is a lot easier with the jet pack, and using this means that one player basically gives up control for a time. The other downside of two-player is that each character has only two hits, and the game is out to kill you if you don't do it yourself first. Lives are shared, so each players' death take away a life, and dying together negates two. If the two players get too far away from one another, one is automatically transported to the other after a short time limit.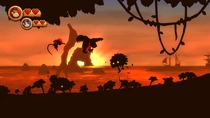 While the game is primarily 2D, areas sometimes spilt into multiple planes like levels found in Virtual Boy Wario Land. Each level has a lot going on in both the foreground and background -- many things animated, and the stages show a lot of variation in presentation. One level takes place at sunset, and all you can see are silouettes (and the red DK's tie and Diddy's hat, kind of like the characters in Feel the Magic XY/XX). This was a very cool effect, which also forced a bit of a strategy change -- enemies and hidden items became less obvious. Another stage featured a giant squid in the background, which destroyed platforms in the foreground (as if there weren't enough that collapse by themselves) or otherwise tried to attack the protagonists. The ever-popular mine cart stages are back as well. The characters in the game are expressive, and here, Diddy looks pretty funny trying to hold his hat down. I heard new renditions of many songs from the first game, each with their own jazzy twist.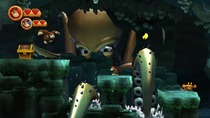 Blast barrels have returned in a big way. The series staple forms arrays in both 2D and 3D that must be navigated carefully. At the end of one stage, a multi-faced monkey totem spun around. Waiting in a blast barrel, I had to time a launch carefully to land within the open mouth of the totem, eventually finishing the level once all of the faces were destroyed.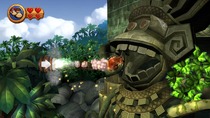 Animal buddies make a return as well. I only got to see Rambi, who can charge through just about anything, including spikes and boulders. He has two weaknesses -- fire, which conveniently appears on the stage with Rambi, and falling. If two players are both riding Rambi, either character can take control at any time. However, if Diddy is riding on DK, who is also riding on Rambi, then only DK can drive.
There are tons of hidden items. Most plants can be pounded or blown on, revealing bananas, banana coins, or sometimes more substantial items. Each level has hidden puzzle pieces, the KONG letters, and a myriad of coins, but exactly what they are used for has not yet been revealed. There are also many hidden bonus rooms (another series requirement), as well as alternate paths. For example, in one stage, blowing on a windmill reveals a new area in the background.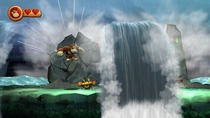 Though it's made by Retro and not Rare, Donkey Kong Country Returns lives up to its name -- it feels very much like a new Donkey Kong Country, and the attention to detail is notable. DKCR offers up a fun, classic-styled 2D platformer that isn't afraid to be a little challenging, while simultaneously allowing for two players of differing skill level. The game launches in North America on November 21.