Wii
Rayman Raving Rabbids
Visit the Wii U game profile for more NWR coverage.
Michel Ancel is back at the helm of the new Rayman game, and it will take special advantage of the Wii's unique controller. Ubi Soft promises that the game will be the "funniest and zaniest yet." Including 70 quirky mini-game "trials", it takes the Rayman franchise in a totally new direction while maintaining its classic creativity and wit.
Psychotic bunny rabbits have invaded the earth and imprisoned Rayman, and it's up to him to entertain and ultimately outwit them to make his escape. By changing costumes (punk, pop, rock, and hip-hop among others), Rayman is able to gain popularity and thus take power from the Rabbids. New costumes, music, and items can be earned and displayed in Rayman's prison cell.
Up to four players can get in on the action during offline multiplayer trials.
Screens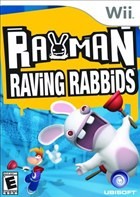 Genre
Action
Developer
Ubisoft
Players
1 - 4
Worldwide Releases
Rayman Raving Rabbids
Release
Nov 19, 2006
Publisher
Ubisoft
Rating
Everyone
Rabbids Party
Release
Dec 14, 2006
Publisher
Ubisoft
Rating
All Ages
Rayman Raving Rabbids
Release
Dec 08, 2006
Publisher
Ubisoft
Rating
3+
Rayman Raving Rabbids
Release
Year 2006
Publisher
Ubisoft
Rating
Parental Guidance