We take a look at the extreme spectrums of Robot Master quality.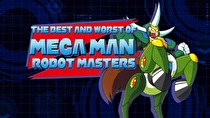 With Mega Man 11 just around the corner I decided to take a look at the Blue Bomber's past. There are some great Robot Masters, and some truly awful ones. So I sat down and picked out my five favorite and least liked characters to create this list.
The two lists aren't in any particular order, so just sit back and enjoy the extremes found within the Mega Man universe. Then let us know some of your picks for best and worst Robot Masters in the Talkback thread below.