We take a look at many Smashing possibilities.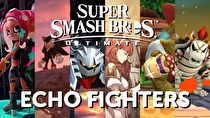 After viewing the latest Super Smash Bros. Nintendo Direct I really started thinking, maybe a little too much, about who could be added as an Echo Fighter in Super Smash Bros. Ultimate. Behind the scenes at Nintendo World Report we all began talking about it. Then, I started making a list.
What you see before you is a list partially made up by myself with some great input from the rest of the NWR Staff, about who could potentially become an Echo Fighter in the upcoming Nintendo Switch version of Super Smash Bros.
I've also added my thoughts on the odds that each of these characters will be added to the game, but please keep in mind these are baseless estimates designed for fun. So just sit back and enjoy reading about some possible Super Smash Bros. Ultimate Echo Fighters!