In a new weekly (hopefully) feature, we look at the week in the eShop on Switch.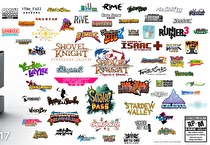 As we keep getting slammed with all these Nindies on the Nintendo Switch, we figured in addition to our ongoing review coverage, we'd provide a quick roundup of some of our more dedicated Nindie-playing staffers' takes as well as our coverage of all these games. Leading the charge likely every week will be Justin Nation, who runs Nindie Spotlight in addition to contributing to Nintendo World Report. This week, we sort through a bevy of intriguing releases and keep an eye towards the future. Check out this week's download article for the full rundown.
Nindie Pick of the Week
Neal: I did review Semispheres (which is good but not great), but I'm most excited to dive into Kingdom: New Lands. The concept of trying to raise a kingdom while fending off foes and obstacles just seems neat. Also, Justin and our NWR reviewer Perry have both spoken highly of it.
Justin: Of the games I was able to spend more time with releasing this week, Kingdoms: New Lands was the clear and easy winner. It isn't quite like anything I've played before and though the limited control and pacing won't work for everyone I loved the challenge of experimenting and working to find success.
I only got the code for Quest of Dungeons yesterday but I can already confirm that it is the same "true roguelike" game I enjoyed on the PC, with the value add of being able to play it portably. While I had to be careful to keep track of my health, it was perfect to play as I watched TV with the family.
Perry: The past week my game time has been completely filled with Kingdom: New Lands. Featuring maybe the most satisfying strategic gameplay I've ever experienced, with easy to learn but hard to master mechanics the whole game is built up wonderfully, and perfect on the Switch. I've played it so much that it's gotten to the point where I see the little pixel peasants and scenery from the game whenever I close my eyes, and when I'm not playing (like at work or visiting family) I am thinking about playing. I would recommend this game to anyone and everyone, just don't expect a very fast-paced experience.
A Link to the Past
Neal: In this augural Nindie Spotlight, I want to call out TumbleSeed, which is an incredible, masterful game that had an update a few weeks back that made it even better (and way more friendly). It's roguelike where you roll a ball around like in the arcade classic Ice Cold Beer. Also the music and art is mesmerizing.
Justin: I, too, have a lot of love for Tumbleseed but, though I unlocked all of the auras after the Four Peaks patch, I haven't had the time to return to it. Going old school I'll note that Has-Been Heroes is another early title I'd like to find time to get back to. While it has a hell of a learning curve I love the strategic gameplay and challenge.
David L.: This past week I've been obsessed with two games, Ironcast and NeuroVoider. I've been playing Ironcast since it's August debut but I've really hit my strides this week and started doing speed runs. With NeuroVoider, I completed the review for the site but haven't been able to stop playing. Both games are similar, roguelike permadeath with RPG elements involved.
Looking Ahead
Neal: While I was one of the few who wasn't as in love with SteamWorld Dig, Image & Form's follow-up SteamWorld Heist is a masterpiece that showed that they are a developer not to be trifled with. SteamWorld Dig 2, out on September 21, looks like it could be better than both the Dig and Heist.
Justin: I played the original Dig through to completion back on the 3DS and remember it going way too quickly and feeling somehow incomplete, so I'm looking forward to seeing all of the ideas they've been sitting on finally come to fruition. Next week will also bring the classic PC adventure Thimbleweed Park, which I'm looking forward to having an excuse to finishing. The signature humor from classics like Maniac Mansion and Day of the Tentacle is still present in the varied dialogue options you're given and the puzzles are generally just as unusual as ever.
Perry: Unlike Neal, I was one of the people who fell in love with the first Dig. I loved the character design, the gameplay and most important the length. When I beat the game the first time I immediately went through and beat it again. The game made me want more of it and didn't overstay its welcome, which I really appreciated. Now Dig 2 is coming and the developers are promising bigger/better everything. Although of course I trust them, I can say that I did feel that Heist was a bit too long, and hope that Dig 2 keeps it fresh. But one thing is for sure, I am extremely excited for Dig 2.
David L.: I'm most excited for the unknown. It seems like there are great Indie titles being worked on right now that don't make it on Nintendo's radar until the game is ready. I'm keeping my eye out for those diamonds in the rough.