Tons of Wii U VC titles, games from the 2013 Nintendo Game Seminar, and more hit Japan.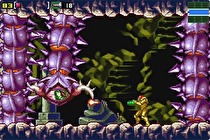 Even though the releases this week are pushed back a day later than usual (Thursday rather than Wednesday), the eShop in Japan has returned to the usual craziness we are all used to seeing. Releases on the Nintendo 3DS are a little sparse, but Pokémon Art Academy is coming for those interested in drawing photo realistic Pokémanz. Mysteriously, the 3DS Virtual Console lays dormant for another week, marking just over a month since the last retro release on the system.
The Wii U has an overabundance of software releasing this week, including four free games that were crafted by students during the 2013 Nintendo Game Seminar (you can check out more about that here). Not only that, but the likes of Pushmo World, Metroid: Zero Mission, Air Zonk, and tons of other Virtual Console games hit the eShop from numerous platforms. For a complete look at all of the releases in Japan this week, check out the round-up below!
3DS
Downloadable Titles
Uo Catch - 200 yen
Dokopon Choice Shijō Saikyō no Deshi: Kenichi Vol. 2 11 - 20-kan Pack - 4,400 yen
Dokopon Choice Fairy Tale Vol. 3 21 - 30-kan Pack - 4,400 yen
Pokémon Art Academy (retail title) - 3,619 yen
Konchū Monster Super Battle (retail title) - 5,184 yen
Pac-World (Pac-Man and the Ghostly Adventures, retail title) - 5,119 yen (from 6/19)
Virtual Console
NA
Wii U
Downloadable Titles
Hiku Osu World (Pushmo World) - 1,000 yen
Poppo Hunter (2013 Game Seminar Title) - FREE
Hissatsu! Center Heroes (2013 Game Seminar Title) - FREE
Shima Nagame (2013 Game Seminar Title) - FREE
Sentō Danchi (2013 Game Seminar Title) - FREE
Virtual Console
Ike Ike! Nekketsu Hockey-bu: Subete Koronde Dairantō (Crash n' the Boys: Ice Challenge, Famicom) - 514 yen
Kekkyoku Nankyoku Daibōken (Antarctic Adventure, Famicom) - 514 yen
Metroid Zero Mission (Game Boy Advance) - 702 yen
PC Denjin (Air Zonk, PC Engine) - 617 yen
Road Fighter (MSX) - 823 yen