Despite the busy week on the E3 show floor, Nintendo is still serving up some cool content on the eShop in Japan.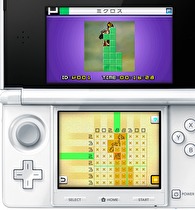 E3 is in full swing and that means that the eShop is full of related video content. As per usual, gamers are able to view the Nintendo Digital Event from Tuesday in its entirety as well as shorter videos focused on individual games.
In terms of releases, there still are a healthy amount of titles coming out here in Japan. While the 3DS has gone a month without a Virtual Console title, Nintendo's handheld is still getting quite a few downloadable titles, including the release of the latest Picross title, Picross e5. The Wii U is getting some VC love this week again with Blazing Lazers from PC Engine, Pac-Land from the Famicom and the GBA Pac-Man Collection. For a complete look at all of the downloadable titles and content released in Japan this week, be sure to check out the round-up below!
3DS
Downloadable Titles
Star Series: 3D Soccer - 400 yen
Dokopon Choice Uchū Kyōdai Vol. 1 1 -10-kan Pack - 5,400 yen
Dokopon Choice Boku ga Ita Vol. 1 1 - 8-kan Pack - 3.520 yen
Picross e5 - 500 yen
Card Fight!! Vanguard Lock on Victory DEMO - FREE
Arc Style: Soccer!! 2014 DEMO - FREE
Taiko no Tatsujin Don to Katsu no Jikū Daibōken DEMO - FREE
Virtual Console
NA
Wii U
Downloadable Titles
One Piece Unlimited World R (retail title) - 7,171 yen (from 6/12)
Virtual Console
Blazing Lazers (PC Engine) - 617 yen
Pac-Land (Famicom) - 514 yen (360 yen until 6/18)
Pac-Man Collection (Game Boy Advance) - 702 yen (500 yen until 6/18)