How did these American racing game buffs become one of Nintendo's go-to developers?
Nintendo has a long history of taking Western development houses under their wing. Most of their legacy is obviously rooted in their Japanese studios, but for all their talent and design expertise, these teams cannot do everything. Sometimes, the assistance of an outside party is required for a specific project, and in the past, this has often led to an extended partnership over multiple games. This happened once upon a time with the British Rare Ltd., while more recently, Nintendo has enlisted the services of Texas-based Retro Studios and Next Level Games in Vancouver to work on numerous first-party franchises. However, although they might not be as well known, there is another developer currently on the fast track to joining this exclusive group of Nintendo collaborators in the West: Monster Games, Inc.

Monster Games was founded in 1996 out of Northfield, Minnesota. Very quickly, they established their niche as a specialist racing game developer - even now, on the company's official website, they are still referred to as Monster Games iRacing. Their first output was the PC-only Viper Racing, a driving simulator released in 1998. In the month of its release, this Dodge Viper licensed game earned an Editor's Choice award from PC Gamer magazine. In fact, the title was well received enough that the studio was given the reigns to the NASCAR license, developing NASCAR Heat for PC and then branching out to consoles with NASCAR Heat 2002.
The first piece of Monster Games software to appear on a Nintendo system was actually the final game in this four-year NASCAR deal: NASCAR Dirt to Daytona, which came out of Nintendo GameCube in 2002. With a surprisingly robust career mode and an enormous range of customization options the game exceeded expectations, standing as a good simulation racer in its own right, even in the eyes of critics who had a disdain for actual NASCAR racing. After their rights to the NASCAR license expired, the studio went on to make Test Drive: Eve of Destruction for PlayStation 2 and Xbox in 2004.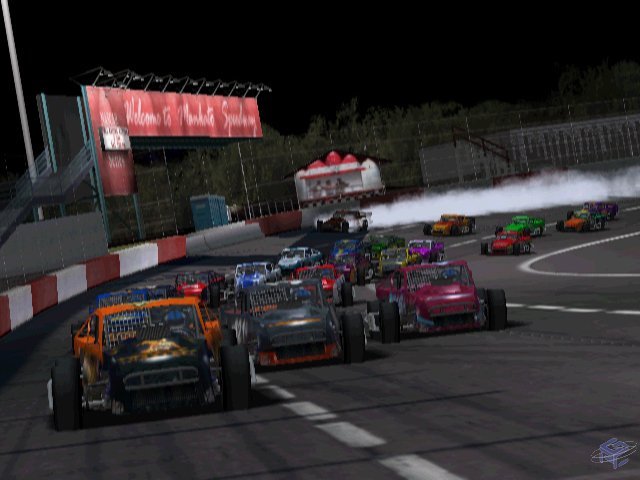 It was at this point that the years of acclaimed work on licensed racing games finally caught the full attention of Nintendo, who had begun to prepare for their next home console, the Wii. Much like when the aforementioned Retro Studios were brought in to develop Metroid Prime back in the early 2000s because of their history and experience with first-person action games, Nintendo commissioned racing aficionados Monster to spearhead another classic franchise revival, and in late 2006, Excite Truck arrived on the Wii at the system's launch. It was surprising to see the Excite name return - the series had not been represented since Excitebike 64, which was itself an unexpected revival of the NES original from another Western studio, Left Field Productions.
However, despite the fact that Monster Games had built their foundation on racing simulations, the team made a remarkably smooth transition to their first arcade-style racer, which captured the spirit of Excitebike, but was ultimately a very different and much deeper experience. Excite Truck was extremely fast and exhilarating, with a brilliantly balanced turbo mechanic; while the races took place on expansive, branching off-road tracks.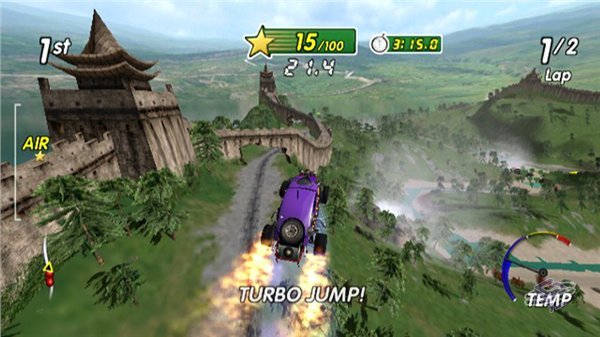 As a system launch title, the game performed reasonably well, and Nintendo was evidently satisfied because a little over two years later a follow-up, ExciteBots: Trick Racing, was released, and as the saying goes, it cranked things up to 11. In many respects, ExciteBots was largely iterative on its predecessor, but where Excite Truck was over-the-top for its crazy physics, ExciteBots was over-the-top for being just plain crazy.
Bizarre morphing animal robots, trapeze bars, bowling, darts, football and butterfly collecting were all regular occurrences in a single race, and as the title suggested, there was a greater focus on performing tricks throughout the race to build up your Star count. In addition, the game also introduced online play to the Excite series, with modes for regular races and the incredibly strange Poker Race. Unfortunately, the game was released in 2009 to very little fanfare, and poor sales kept it a North American exclusive for a long time. Japan eventually received a belated release, whilst Europe was left out entirely.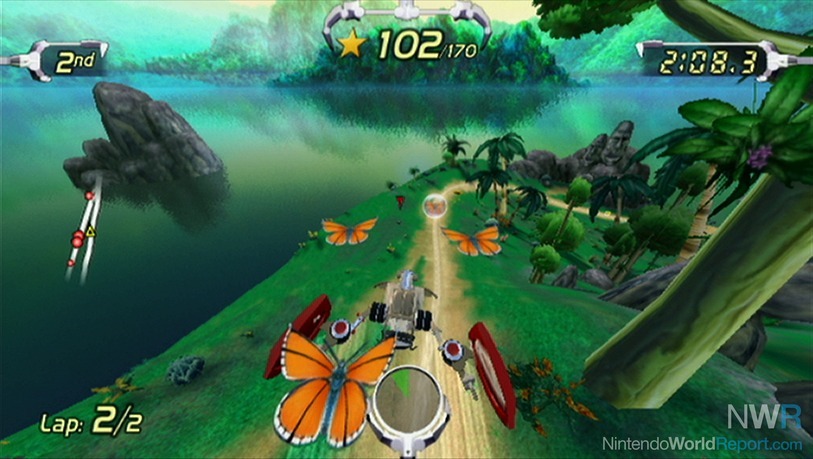 In the same year as ExciteBots, Monster also put out yet another installment in the Excite franchise, a WiiWare download called Excitebike World Rally. Unlike the previously-mentioned titles on Wii, World Rally was a much closer and more faithful remake of the original Excitebike. Aside from the enhanced 2.5D visual treatment, the game retained the classic elements of its NES forefather, including the straight-ahead racing, wheelies, enormous ramps, lane switching and so on. It was certainly a well-recreated piece of nostalgia, although naturally it did not convert anybody who wasn't already fond of the classic Excitebike gameplay.
Following that, Monster Games' partnership with Nintendo began to evolve similarly to that of Retro Studios, who had once worked solely on the Metroid Prime series before being entrusted to other Nintendo properties that were totally different. Monster, who developed racing games and then the Excite series for so many years, finally branched out in a very unexpected way. At the Nintendo 3DS launch in early 2011, Pilotwings Resort was released around the world. It was a first for the developer in a few ways, being their first non-racing game as well as their first title to come out on a handheld platform.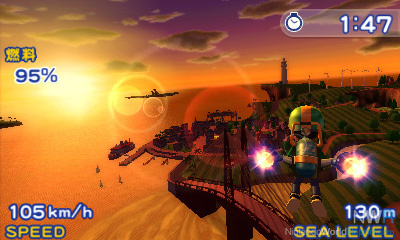 The third entry in Nintendo's long-dormant quirky flight sim series, Pilotwings Resort was based entirely around Wuhu Island, a tropical holiday vista that had originated in Wii Sports Resort. As with Pilotwings and Pilotwings 64 before it, the game featured the options to control a plane, hang glider and jet pack, each with their own unique set of missions to complete around the island. Some critics had reservations about the amount of available content and whether it was really just an expanded version of the Air Sports mode in Wii Sports Resort, but the game was still fun nonetheless and maintained the Pilotwings tradition of showing off its system's capabilities; in this case, the stereoscopic 3D graphics.
We have finally reached the end of our journey through the history of Monster Games, bringing us to the present day and the studio's most recent project. It seems highly appropriate, in light of all the clear parallels between Monster and Retro Studios over the last decade or so, that the former has been given the duty of moving the latter's last Wii game, Donkey Kong Country Returns, to the 3DS. Maybe one could argue that handling a port is hardly the most challenging or creative endeavour to task this team with, and to some extent, that might be true. However, DKCR is a perfect fit for the handheld, and by all accounts, Monster have done the best job they could in optimizing the game for 3DS and creating eight new levels that are, according to our own Neal Ronaghan in his review, "truly wonderful, introducing new concepts and twists to the mechanics and design of the original game."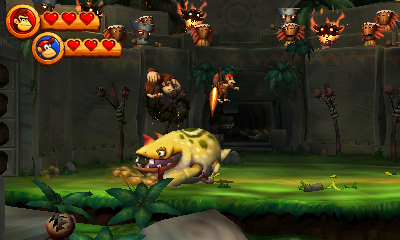 Perhaps this work on Donkey Kong Country Returns 3D is merely a testing ground in order to prepare them for a future project. Perhaps the next title we will see from Monster Games will be a brand new 2D platformer - after all, based on the stages they made from scratch, it would appear that they are more than capable. For now, what we can say for sure is that Monster has travelled a long, interesting path since their origins in Dodge Vipers and NASCAR. The future is bright for this developer, and here's hoping that their healthy relationship with Nintendo continues for many years to come.