Luigi steps out of his brother's shadow and revels on the main stage.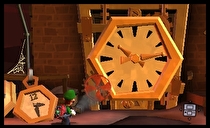 It is no small feat to imbue a dusty old manor home with more personality than the vast majority of living, breathing characters, but that is exactly what Nintendo accomplished with Luigi's Mansion on the GameCube. As the center-piece to the system's launch in 2001, this unexpected adventure starring Mario's brother oozed charm and served as a great proof of concept that many hoped would be fully expanded into something truly special one day. While we may not have anticipated that this day would arrive in the far-flung future of 2013, what really matters is that Luigi's Mansion: Dark Moon makes good on the promise of the previous title, becoming everything that game could, and perhaps should, have been and advancing this quirky spin-off series into the elite class of first-party franchises.
Dark Moon is, of course, still guided by the two core tenants of its forebear: exploration and ghost combat with the not-at-all-Ghostbusters-inspired Poltergust 5000. Unlike the first game's singular mansion, though, this game has five distinct locales that all offer a unique look and design, from the heavily overgrown, vertically orientated Haunted Towers to the sprawling mechanical abode that is the Old Clockworks. Right off the bat, it feels as though Luigi's Mansion were designed with the 3DS in mind all along, as the diorama-style presentation of the mansions lends itself to some of the most striking 3D visuals on the system. Furthermore, each mansion is broken up into a handful of levels, an interesting change in structure that lends itself extremely well to the portable nature of the system. This certainly makes for a more directed experience than the original, but referring to Dark Moon as a strictly linear title does not cut it, for the game is absolutely filled with dozens upon dozens of moments of discovery.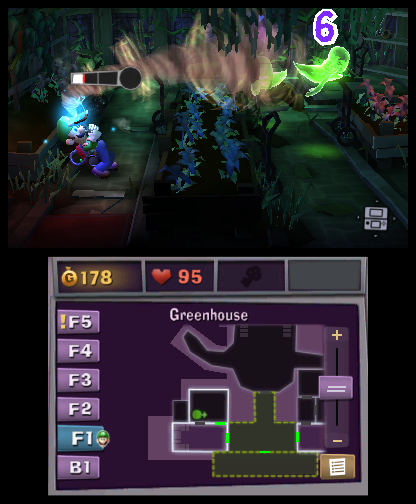 In pretty much every room of every location, there is always more than first meets the eye. While an objective marker always points you towards the ultimate goal, the route is never as simple as moving in straight line from point A to B. If the first Luigi's Mansion was about toying with the physics of environmental objects as if it were a sandbox, Dark Moon is more about investigating the environment and unearthing all its secrets, be it through peeling off wallpaper and carpet, activating hidden mechanisms or just shining your new Dark Light Device into a conspicuously empty corner. You will feel compelled to be inquisitive and interact with everything in sight and, best of all, you are usually rewarded for doing so, making the mansions an absolute joy to traverse.
The overall feel of these mansions is embellished by our titular protagonist. For somebody who only communicates in short phrases or yelps, Luigi is without doubt one of the most expressive video game characters ever, and he is brought to life more than ever before through some stellar voice work from Charles Martinet. The younger plumber is about the least prepared person to call in a haunted house scenario, so naturally, he is the perfect fit for such a game, and like many other aspects of the original Luigi's Mansion, his characterisation is taken to a whole new level in Dark Moon, especially the way he hums along nervously with the excellent background music. Luigi tries to put on a brave face despite his anxiety and fear, all while tricks are played on him by the mansions and their mischievous ghostly inhabitants.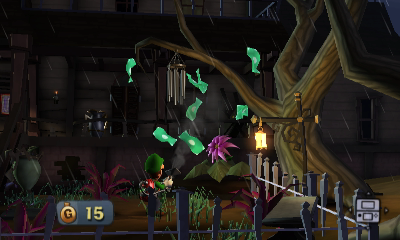 Speaking of the ghosts, no appraisal of Dark Moon would be complete without addressing the game's other major component, the vacuum-based combat. It is funny to think that Luigi's Mansion on GameCube was designed to showcase dual-joystick controls, when in spite of its more limited inputs on 3DS, Dark Moon's ghost-busting is considerably more involved, thanks to the addition of a risk-reward element with the Strobulb and, for the most part, the gameplay feels better suited to its control scheme.
Perhaps the biggest surprise of all, though, is the surprisingly well-realised and fully fleshed-out ScareScraper multiplayer mode. Although the mode is by no means the focus of Dark Moon, it is a ton of fun in the right group of people, and like Four Swords before it, does a fantastic job of inspiring competition in a co-operative environment.
Luigi's Mansion: Dark Moon bears a strong resemblance to the game that came before it, but in the process of transitioning to the handheld format, it improved upon just about every foundation established by its predecessor. On that basis, Dark Moon receives the accolade of NWR's third-best 3DS game of the last two years.