It's time to give the rightful successor to Ocarina of Time its due.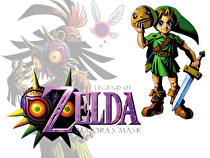 So, Nintendo doesn't know what to do with 3DS and the Zelda franchise. They're not sure if they should remake A Link to the Past or Majora's Mask as the next Zelda 3DS title.
The answer is simple: neither. Nintendo should make a new, exciting game. They should push the 3DS to its limits, and use this game as a showcase to other developers of what the hardware can do and how to best utilize its features. However, if we accept that this outcome is not in the cards, the answer is equally simple: if you're going to remake a Zelda, especially on a handheld system, it must be Majora's Mask.
Oddly enough, Majora's Mask is tailor-made for this role. Three things make it the best candidate for the 3DS remake. Structurally, it is well suited to life on a handheld, more than any console Zelda since II. It is a more interesting game than A Link to the Past. It is also better poised to take advantage of a 3DS remake.
Majora's Mask's primary design conceit could have been crafted specifically for the 3DS: the entire game is on a timer. The moon crashes into Termina Field after three days, and the game resets every 54 minutes (sooner, if you so choose). Dungeon designs encourage playing through them in chunks, and you can work through mini-quests in stages, with most requiring use of the experiment/restart cycle. In fact, the game even keeps a journal so you can track of what you're working on. There is an undeniable episodic feel to the game, which historically works quite well in the handheld space. Given these qualities, Majora's Mask is far better suited to handheld gameplay than its predecessor, Ocarina of Time (which, of course, already got remade).
The act of giving Majora's Mask the Ocarina of Time 3D treatment shouldn't be especially complex, since Majora's Mask was originally designed to be a quick follow-up to Ocarina of Time. In the end, it only took Nintendo 17 months to follow one classic Zelda experience, inarguably Link's most commercially successful adventure, with a unique follow-up. To expedite development, Majora's Mask reuses many assets from Ocarina of Time, including the game engine and many of the characters. No doubt a Majora's Mask 3D would share similar links and timesaving qualities with last year's Ocarina of Time 3D.
However, A Link to the Past was a 2D game. None of the assets created for Ocarina of Time 3D are reusable in any 3DS remake of the former. The puzzles in A Link to the Past also exist in 2D space, making redesigning the entire world the only way to move them to 3D, at which point you might as well create a new game. While leaving A Link to the Past in 2D might arguably avoid these issues, it would require the recreation of much of the sprite artwork. There is also already a GBA version of A Link to the Past—just put that on the 3DS Virtual Console and be done with it.
Simply put, a 3D remake of Majora's Mask would be easier—and Nintendo could get on with the business of making a NEW Zelda game for 3DS.
While this is more a matter of opinion, I think Majora's Mask is a more interesting game than A Link to the Past. In the latter, you spend your time rescuing nameless princesses from life inside geodes, occasionally as a rabbit. In Majora's Mask, you watch the gears of an astronomical clock spin, with the clock tower fittingly serving as its central point. The world isn't full of puzzles—it is one. And instead of a rabbit, occasionally you're a Goron, a Deku Scrub, or a Zora.
Termina is dormant, unsettling, and strange, yet the eventual doom of this land is so lamentable that Link must save it—even after recovering his prized horse. Majora's Mask is more than good versus evil; it is fate versus free will. The world is fated to end; even the gods of Termina have accepted this outcome and only move to intercede after Link impels them. In Ocarina of Time, Sheik tells Link "The Master Sword is a ship with which you can sail upstream and downstream through time," yet this ship only has two stops. Link merely embarks and disembarks at the times outside actors (the Sage of Light) have specified. Even with this power, Link cannot save the past—Gannon still destroys Hyrule. Link could only save the future. This time Link isn't fighting a green man who also happens to be a pig. He isn't even fighting the titular mask. He is changing fate and becoming god—literally and figuratively—through his efforts to guide the rudder of the ship of time.
It makes perfect sense to me that Majora's Mask be the Zelda game remade for the 3DS, if a remake is the only option available to us. It is well suited to the platform, and Ocarina of Time 3D did much of the hard work for it. But, most importantly, Majora's Mask is an unique title for Nintendo that never got the attention it deserves. It was an important step for "the world as narrative" in game design, and an important step for Nintendo in learning to experiment with their franchises—something they could perhaps use a refresher on.