The best 3D games are 2D.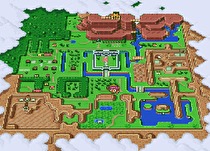 There are a lot of ways you can play The Legend of Zelda: A Link to the Past (LTTP), and everybody reading this article probably already has at least one method. Me? I like digging out my Player's Choice SNES cart. Old school for real, playa! After the success of Ocarina of Time 3D, I'm sure we're all wondering what the next 3D remake is going to be. The obvious choice is Majora's Mask, for a lot of reasons, but I think LTTP would actually be a better choice for a 3D remake.
First of all, I've noticed the 3DS' stereoscopic effect—which does not need special glasses, by the way—tends to perform more admirably on 2D games than 3D games. As proof, I submit Mutant Mudds, Mighty Switch Force, Colors 3D, and most of the 3D Classics games. Since 2D games are made of layered sprites on top of platforms on top of backgrounds, adding depth is simple and effective. In 3D games, however, like Ocarina of Time or Star Fox 64, objects have no fixed plane. Rather, they're constantly moving toward and away from you, and without a set reference point, the 3D effect is hazy. The worst example is probably Metal Gear Solid 3, which features constant movement and full camera control, so objects in the 3D space are constantly changing relative to one another.
But 2D games don't have such a hindrance. Foreground objects are always foreground objects, background objects are always background objects, and layers never change. Of course, the most successful 2D games in 3D have been side-scrollers with distinct backgrounds and foregrounds. How would an overhead game like LTTP be effectively brought into the third dimension? By adding layers, of course! They just wouldn't be layers from front to back, but from top to bottom. It's a similar concept. Imagine the tops of trees are one layer, the ground being a "lower" layer, and water being the lowest layer. Multi-level dungeons would theoretically be great for this layering effect. If you were going to remake the game completely, it would be interesting to see lower floors in better detail from upper floors. Imagine fighting the giant worm at the top of the third dungeon tower and being able to see the floor below it in the open areas! Imagine the layering possibilities while scaling Death Mountain, or in the belly of Turtle Rock. Heck, the opening sequence, with Link running through a rainstorm, would look great if the rain itself was the uppermost layer.
The touch screen would also be quite useful. As in all the 2D Zelda games, LTTP's Achilles' heel is that the player must constantly press pause to switch items. The further you get in the game, the more often this happens. Since you don't cycle through multiple sub-screens in LTTP (unlike Ocarina), you could just put the pause menu on the lower screen for good. When you want a new item, just tap it to equip on the fly! I suppose they could also throw an option in there to use the D-pad for four item assignments—your most popular tools, I mean, while Link moves around with the slide pad. For the map, you could assign a touch button to swap between your items and your map. This would be helpful in dungeons (especially with the D-pad item assignments). Further, you could simply tap certain items for use on the fly—the Medallions, for example, or the Book of Murda. Those don't need to take up inventory space.
I think LTTP makes more sense as a 3D remake than Majora's Mask. There's so much more you could do than just make it prettier, while Majora's Mask would be doing largely the same thing Ocarina of Time 3D accomplished.