Pit apologized for the wait last year, now he's ready to rumble!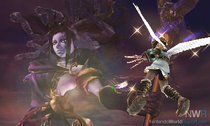 First announced at last year's E3 along with the 3DS, Kid Icarus: Uprising is the long-awaited sequel to the classic NES title and its little-known Game Boy follow-up.
Featuring Pit, the angel-like hero of a land heavily inspired by Greek mythology, the game focuses on a mixture between dramatic flying sequences with aerial battles and evasive maneuvers, and land-based combat against swarming enemies and gigantic beastly bosses.
The game features the same plot as the original game - the evil Medusa has taken over the land and filled it with monsters, so the divine Palutena sends Pit out to cleanse the land and save the day. Unlike Pit's more regal, honorable appearance in Super Smash Bros. Brawl, this time around he seems to have a more edgy, cocky personality like that of game characters such as Sonic the Hedgehog and Spyro. At one point in the debut trailer he coyly instructed a gigantic cerberus-like monster to "bark like a dog" while attacking it.
Is this personality overdone in games and cartoons? It's hard to judge how well his new character will be received among fans.
A demo was playable at the Game Developer's Conference earlier in the year, and amidst some mixed responses over the controls, the overall reception was that people wanted more. Hopefully we'll finally see a release date at the expo, with a more polished demo to play and maybe a new trailer.