The Famicrew gets excited about Wii U...and the 64DD Drive.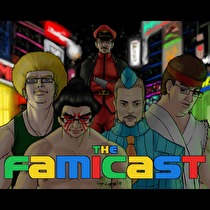 Subscribe via iTunes (Please rate and review, too!)
WE ARE EXCITE!!
Apologies if that Engrish startled you, but the Famicrew just can't help being excited about learning more about the most revolutionary Nintendo console ever, the Nintendo 64DD! Kidding, of course. That's only a small section of the episode. We have a whole segment of the show dedicated to the Wii U – what we're excited about potentially being unveiled and what we're most worried about being ignored at E3. We'd love it if you guys joined in the Talkback thread below and gave us your thoughts on that, too!
The rest of the episode goes from sad, (end of SpotPass TV) to happy (end of SpotPass TV). Then weird, (DS car navigation) to intriguing (Wii U controller leak). Talk about Bio Tetris, Doshin the Giant, Other M, Fire Emblem Awakening and Bloody Vampire - how could this all be on one podcast? Believe it people.
Listener mail and Life in Japan gets combined this episode. Listen in to find out the newest Internet meme, "Danny Bivens: The Umbrella Chronicles."
Countdown to E3 a go-go baby!
This podcast was edited by Danny Bivens.
Music for this episode of The Famicast is used with permission from 8 Bit Weapon. You can purchase their music and shirts from their website 8bitweapon.com
Additional music for this episode of The Famicast is copyrighted to Nintendo, and is included under fair use protection.