Before the month is over, Nintendo may be lowering the price of the Wii and reissuing select titles at bargain prices.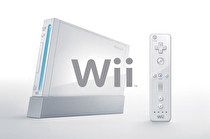 A factory fresh Nintendo Wii will be retailing for a MSRP of $150 before the month is out, according to anonymous retail sources in contact with Kotaku. Along with the price cut, Nintendo will unveil a line-up up of budget titles, falling under the banner "Wii Select."
Games in the "Wii Select" line will be $19.99 if early retail listings are indeed factual. The first games slated to be reissued at budget prices include The Legend of Zelda: Twilight Princess, Super Smash Bros. Brawl, and Mario Super Sluggers.
In addition to a price a drop, the retail sources say that each Wii system will no longer be bundled with Wii Sports and Wii Sports Resort, but instead include a copy of Mario Kart Wii. Those new Wii owners who desire some tennis and boxing will have the option of buying a "Wii Select" copy of Wii Sports. The new Mario Kart Wii combo will supposedly go on sale on May 15.
If these rumors prove to be true, it will be the first Nintendo system in North America to garner a budget line-up since a handful of Game Boy Advance titles received the Player's Choice branding.