Mario Kart Wii console bundles and Nintendo Selects titles coming to North America May 15 and to Europe May 20.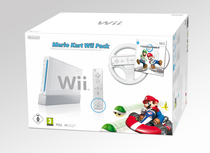 New, cheaper Wii console bundles as well as a new line of discount Wii titles called "Nintendo Selects" will be arriving in stores in the next few weeks, both Nintendo of America and Nintendo of Europe confirmed.
The new bundles will include a black or white Wii console, a copy of Mario Kart Wii, a Wii Remote Plus, a Nunchuk controller, and a Wii Wheel that will match the color of the hardware. The new Mario Kart bundle will retail for $149.99 in North America, while in Europe, the existing Wii Sports Resort Pack will see a price reduction.
The Nintendo Selects titles are budget titles that will retail for $19.99 in America and in Europe at a reduced price. The North American titles include The Legend of Zelda: Twilight Princess, Animal Crossing: City Folk, Mario Super Sluggers, and Wii Sports. In Europe, Wii Sports, WarioWare: Smooth Moves, Mario Strikers Charged Football and Animal Crossing: Let's Go To The City will be available under the new discounted line of software. The new console bundles and Nintendo Selects titles will launch on May 15 in North America and on May 20 in Europe.