Finally, our artistic vision has been recognized.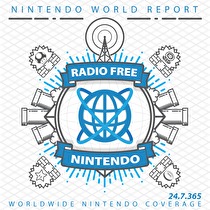 Subscribe via iTunes (Please rate and review, too!)
Last week we went all New Business, this week we went all Listener Mail. Why? Because I played Punch Line and didn't dare talk about it anymore and because our email plea reaped tremendous benefits. This week we: complain about Nintendo Directs, get congratulated on Twitter, spot the fake kart racers, create VR nightmares, and Thanos away half the world's video game composers. You can solicit the next target of the RFN Reign of Terror by sending us an email.
Voting has closed, and now it's time for our next RetroActive: The Legend of Zelda: Spirit Tracks. We're going to record the segment in a few weeks, so go ahead and get your copy. You can post your thoughts here.
This episode was edited by Guillaume Veillette. The "Men of Leisure" theme song was produced exclusively for Radio Free Nintendo by Perry Burkum. Hear more at Perry's SoundCloud. The Radio Free Nintendo logo was produced by Connor Strickland. See more of his work at his website.
This episode's ending music is Lord of a Dead Empire from Fire Emblem Echoes: Shadows of Valentia. Composition by Yasuhisa Baba. It was requested by THE REQUESTOR. All rights reserved by Nintendo Co., Ltd./INTELLIGENT SYSTEMS