See that mountain? You can hold cardboard up to your face to play Zelda on it.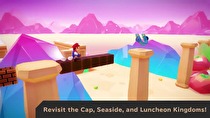 Games have gotten Labo updates in the past, and now two of Nintendo's biggest games will join in.
The Legend of Zelda: Breath of the Wild and Super Mario Odyssey will be receiving Labo VR support on April 25, about two weeks after the Labo VR kit launches. Both games will use the Goggles, found in the US$40 Starter Kit.
Super Mario Odyssey will feature exploration in three areas in VR, while Breath of the Wild claims anything but the pre-rendered cutscenes will be playable in VR.
Experience 2 beloved games in new ways with the Toy-Con VR Goggles from the #NintendoLabo: VR Kit! https://t.co/be8xudP2PK pic.twitter.com/M0C6w59lIT

— Nintendo of America (@NintendoAmerica) April 5, 2019