Let me level with you, I need Jon to make sure that I don't make too many "Brass Balls" jokes in the episode titles. Yes, Jon is the guiding hand of maturity in terms of Brass Balls.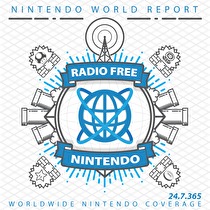 Subscribe via iTunes (Please rate and review, too!)
It's time for another inverted episode, so we start off this week with Listener Mail! In the first segment we tackle a trio of emails: the events of parallel universes in which Nintendo isn't the crazy console manufacturer, The Best Mario Game of 2018 (and why it's not Atelier Waluigi), and forecasting a Nintendo 64 Mini. What we've learned: if you send us an email positing parallel universes, you're riding without a seat belt.
After the break we ameliorate a paucity of New Business content by covering two more emails. We answer whether or not Xenoblade Chronicles 2 looks rushed, and debate if Nintendo will ever feel comfortable making a touchscreen-focused Switch game. You can send us ideas for Bizarro Universes via the inbox.
We wrap the show up with A Little Bit of...New Business. Guillaume has an interesting duo, with thoughts on the 3DS remake of Dragon Quest VIII and a look at the multiplayer mode of The Adventures of Tintin (The Movie: The Game). Greg concludes the show with a pre-order update on the European special edition of Metroid: Samus Reloaded. As always, RFN is your source for pre-order news, previews, and reviews.
This episode was edited by Guillaume Veillette. The "Men of Leisure" theme song was produced exclusively for Radio Free Nintendo by Perry Burkum. Hear more at Perry's SoundCloud. The Radio Free Nintendo logo was produced by Connor Strickland. See more of his work at his website.
This episode's ending music is Pursuit ~ The Final Case from Dai Gyakuten Saiban (The Great Ace Attorney). It was requested by Syrenne McNulty. All rights reserved by Capcom Co. Ltd.