New Yoshi games don't always require his return, as far as he knows.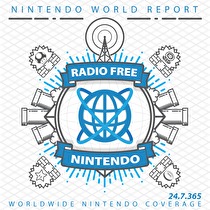 Subscribe via iTunes (Please rate and review, too!)
It feels as if Radio Free Nintendo will never return to the comfortable configuration of Gui, James, Jon, and Jonny. Alas, summer plans often split up the crew, and this week it's Jonny's turn to miss an episode. Thankfully, the cast is joined by the one and only Mr. Greg Leahy.
Greg does not disappoint, starting off New Business with import impressions of the yet-to-be-announced for Western release Rhythm Tengoku: The Best+. Nintendo may be pretending this game doesn't exist outside of Japan, but after hearing Greg you wont be able to. Next, Jon talks about current PS+ free game, Rocket League. Of course you should go get it if you already have PS+, but he compares this rocket car soccer game to Nintendo's biggest game of the year-to-date, Splatoon. Guillaume follows with a report from Nintendo of Canada's Quebec post-E3 media event. He has brief impressions of Tri Force Heroes, Star Fox Zero, and much more. James counters the rest of the trio's impressions of new and upcoming games with his hotly-anticipated impressions of Pokémon Channel. The less said, the better. Lastly, Greg and Gui give tag-team impressions of a game Nintendo of America thinks is too hot for summer, Yoshi's Woolly World. Being in Europe, Greg has already bought and fully beat Yoshi's fluffy adventure, and Gui has a report on the co-op gameplay from the Nintendo of Canada event.
After the break, we have an NX-heavy dose of listener mail. Leading off, the crew is asked what would it take to get them into Amiibo. Predictably, it turns into sequel begging. Following up is a trio of NX or NX-related questions touching on topics from Wii U/3DS to NX ports, to how Game Freak titles ended up on non-Nintendo systems, to the power-to-gimmick ratio of the NX.
Just a reminder, we're doing our first Retroactive Jr. on Blaster Master. We've rescheduled our Retroactive Jr. for two weeks from now. Check out the official thread to post your comments and questions and maybe we'll read them on the show!
If you want to watch James watch Pokémon you can experience the entire first day of Pokémon Channel with him here.
Thanks to Greg for joining us this week!
This episode was edited by James Jones. The "Men of Leisure" theme song was produced exclusively for Radio Free Nintendo by Perry Burkum. Hear more at Bluffs Custom Music.