Ahh, there's too much to talk about! How did we cram it all in? With some help from Donald and our listeners' emails, as it turns out.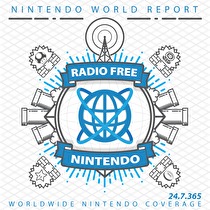 Subscribe via iTunes (Please rate and review, too!)
So much happened in the last week that we knew it would be difficult to cover everything. On top of that, Jon was out on business travel, so we were playing with a man down. Donald to the rescue! Yes, returning guest and brand new NWR staff member Donald Theriault steps up to assist with this challenging and fun episode.
We kick it off with a sampling of Nintendo Direct news -- certainly not enough time to cover it all, but we offer some analysis on Nintendo's continuing DLC plans, the colorful revelation of Shin Megami Tensei X Fire Emblem, the surprise localization of Fatal Frame 5, expansion of Wii U's Virtual Console platform, and the ambitious new Fire Emblem game for 3DS. If we didn't get around to discussing something that interests you from that humongous Direct, just send an email requesting more on the next episode.
Even with all that news (and more to come in the last segment), we had to share some game impressions lest they be lost in the chaos of Nintendo's surprisingly active spring quarter. Donald shares a few thoughts on SMT: Devil Survivor 2 Record Breaker, weeks before the game's release for 3DS, and we also hear that Guillaume has turned around on the previous game in that series after not quite connecting with it by last week's episode. Another one Gui has come to appreciate is Cloudberry Kingdom, the procedurally-generated 2D platformer that works shockingly well as a multiplayer party game for Wii U (and other platforms). James horrifies everyone by actually playing and explaining Conception II, the tacky but maybe half-decent Atlus RPG (because we must eventually talk about every single one). Jonny tries to put out that fire and restore honor to the show with Valiant Hearts, a game about one of the least honorable conflicts in human history. Can a video game truly convey the horrors of World War I? Should it? And why the hell isn't this game on Wii U, when its companion (Child of Light) already is? No answers here, but there is plenty of praise for Ubisoft's melancholic (and informative!) adventure game.
Oh, were you worried we might skip over amiibo? Maybe we ought to, but nah, Listener Mail gives us the perfect opportunity to look at Nintendo's newest retail obsession and what, if anything, could pull us into that vortex. Zelda gets a spotlight too, of course, as we largely skip past the delay (for now) and focus on Eiji Aonuma's looming influence through a decade-and-a-half of running this beloved franchise. Finally, a fortuitously timed email gives Donald a chance to explain and promote his own podcast, Nintendo Free Radio. Check it out!
If you haven't yet heard the announcement, here it is: our next RetroActive game is... The Legend of Zelda: Twilight Princess! It's been over two years since we tackled this series for RetroActive, and y'all must want more, because the cross-generational Twilight Princess won (barely) over both Mario and Metroid in our biggest poll ever. Thanks so much to all who voted! It's going to be several weeks before we can play through this big game and discuss it on the show, but it's not too early to join the discussion in the official RetroActive forum thread. Remember, we'll quote some of the best comments on a future podcast.
This episode was edited by Guillaume Veillette. The "Men of Leisure" theme song was produced exclusively for Radio Free Nintendo by Perry Burkum. Hear more at Bluffs Custom Music.