This episode is much more grounded than the last one, as an email sends us into a lengthy debate about Zelda.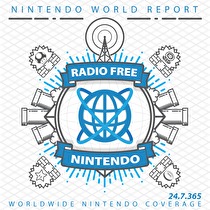 Subscribe via iTunes (Please rate and review, too!)
We enter this episode riding high on last week's quasi-intellectual "gameplay" talk and having earned numerous new fans thanks to Shaymin's excellent RFN thread at NeoGAF, the most famous English gaming forum. (By the way, ours ain't bad either!)
Nintendo gave us an easy way to kick off the show with a few interesting announcements from the latest Nintendo Direct event. Foremost is the surprising decision to let XSEED publish The Last Story in North America, bringing further validation to Operation Rainfall and pleasing hundreds, nay, thousands of Wii JRPG fans in the West. After a bit of this and other announcements, Jon continues New Business with his long-awaited trek through Super Mario Bros. 3 and The Elder Scrolls IV: Oblivion. Greg finished up Wario Land: Super Mario Land 3 and found a copy of a cult favorite, Slitherlink for DS. Jonny completed a trio of notable games and also betrays his skier loyalty by testing the new SSX demo. Finally, James continues his ambivalent, confusing journey through the world of L.A. Noire.
In the second half, it's time for Listener Mail! A question about balancing academics and gaming causes Jonny to reveal an uncomfortable memory from his college days. We examine the causes and possible remedies for poor GBA emulation on the 3DS. A listener wonders which system is best for downloading DSiWare (cue James: "none"). Then for the big finale, we read a very long email about "fixing" the Zelda franchise, which leads to an even longer discussion over whether that is necessary and just how it could be done. It's a classic RFN roundtable, so please to have a enjoy. Please help incite more of this chatter by sending your own email to the show!
We politely remind you that RFN's third annual live panel event shall take place at the Penny Arcade Expo (PAX) East in Boston, April 7 at 11:30am Eastern. Join us!
This podcast was edited by Greg Leahy.
Music for this episode of Radio Free Nintendo is used with permission from Jason Ricci & New Blood. You can purchase their newest album, Done with the Devil, directly from the record label, Amazon (CD) (MP3), or iTunes, or call your local record store and ask for it!
Additional music for this episode of Radio Free Nintendo is copyrighted to Nintendo, and is included under fair use protection.