Players will be given a rank online.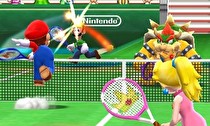 The new installment of Mario Tennis series for 3DS, confirmed to be called Mario Tennis Open, will uses various functions of 3DS and debut in May, according Nintendo President Satoru Iwata at today's Nintendo Direct presentation.
Controlwise, like some 3DS fighting game such as Super Street Fighter IV 3D Edition or Dead or Alive Dimensions, the bottom touch screen will be segmented in some ways with each part is assigned to various shots, hopefully making it easy to parade a succession of techniques. Also, the gyro sensor can be used to control the direction of the ball.
This game supports single-card local multiplayer mode for up to four players, and an online multiplayer mode, where players are ranked according to their online performance in a certain period of time. It also supports the StreetPass feature, although its details are still unclear.
Mario Tennis Open is going to be released on May 24 at 4,800 yen in Japan. Additionally, it is coming to Europe on May 25.