Zen Pinball with a fresh coat of paint.
Last January, 3DS owners were pleasantly surprised by the high quality pinball game Zen Pinball 3D. Six months later, Zen Studios is following up their eShop debut with Marvel Pinball 3D, which features four new tables based off the Marvel universe. The game manages to mimic everything I loved about Zen Pinball, just with different visual flair. While it appears like it could have just been DLC for Zen Pinball, the game still manages to be a ton of fun.
Marvel Pinball 3D has four distinct tables featuring the likenesses of Iron Man, The Fantastic Four, Blade, and Captain America. Unlike Zen Pinball 3D, each table feels just as diverse as the next. They all feature plenty of different missions and various quirks you can learn to help your game. I'm sure I will eventually have a preferred table, but because of their great and equal quality, I can't pin down a favorite just yet.
As for the gameplay, it feels as solid as ever. The ball physics work wonderfully and it feels like you are actually playing a game of pinball. Some aspects of the tables are a little unrealistic, but there is nothing too over the top that distracts from a traditional pinball experience. The 3D effect in the game is gorgeous. There are few 3DS games I play with the 3D effect consistently on, and this is one of them. With the effect turned off, I find it harder to judge when to hit the ball. I highly recommend using the 3D effect.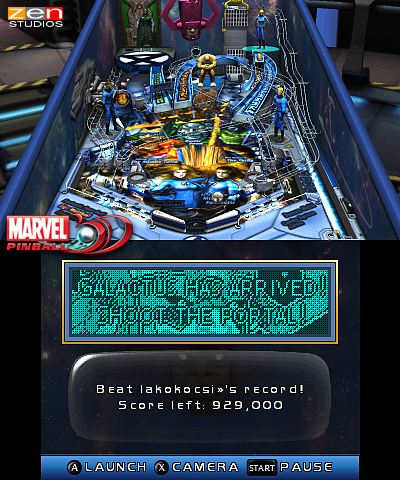 The achievement system is back and provides that extra needed challenge when you are tiring of just going for a high score. In the menu, you can check out what criteria needs to be met in order to earn all 16 medals in the game. I snagged some of the easier medals without knowing what I did, but some of the more difficult challenge medals still elude me. The table guide is also a welcome feature in the game. When I didn't know what a particular ramp did or how a mission had begun, I could reference this guide at any time while playing. The guide a very easy and quick way to learn the tables without painstakingly playing them over and over again, not knowing what you are doing.
The last real feature of the game is online leaderboards. In Zen Pinball 3D I strove to claim the number one score and this game will be no different. Not only are your scores for the individual tables compared against others, but your cumulative score is as well. Your scores can also be compared against your friends who also own Marvel Pinball 3D, creating a sense of healthy competition. There is also a local leaderboard, but if no one else plays on your system, this leaderboard is just you competing against yourself.
Marvel Pinball 3D is a wonderful addition to anyone's 3DS collection. The game's pick-up–and-play nature lends itself well to the downloadable platform. Despite just being more of the same, the game's visuals and ingenious table design make it a must-have. With four fully featured tables, you will definitely be getting your money's worth out of Marvel Pinball 3D.