More of the same, but there is nothing wrong with that.
For those who have not heard me discuss my love for Zen Pinball 3D, I should let you know how much I love it. I'm not a fan of many pinball games, but something about Zen Pinball certainly pushed me into a fanboy-type craze. Playing Marvel Pinball mixed my love for Marvel characters and addiction to Zen Pinball into something amazing. Both games feel the same, but I do not feel there is anything wrong with that.
There were four different stages to pick from, each featuring one character from the Marvel universe. I selected the Captain America stage, partially due to my love for the recent Avengers film. After selecting my favorite view, I dove right into the Pinball greatness.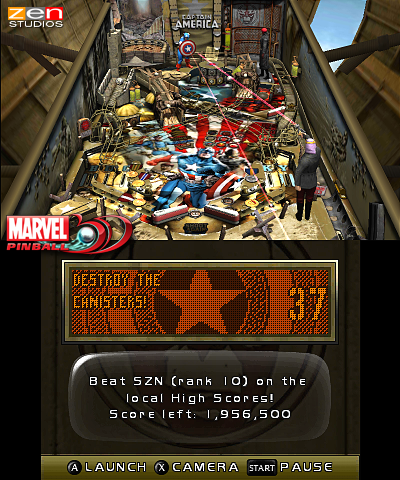 Ultimately, the game felt the same as Zen Pinball 3D. Everything, down to the qualities of the physics, mimicked what had already been done. For me, this was not an issue, but for those looking for something different, it may well be. The Captain America table was not much different from my most played Zen table, Excalibur. There were plenty of ramps, extra flippers, bumpers, and everything else Pinball tables usually offer.
I did notice the achievement system was back in the game. I managed to snag a quick achievement before my game ended, which is always satisfying. I didn't glance at how challenging some of these achievements were, but assuming they follow Zen Pinball, some are probably going to be quite difficult.
Now that you know how much I love this game, you may be asking yourself why you should get this game if you already own Zen Pinball 3D. The only real answer I can give you is the game's new tables. If you love Pinball, and love the Marvel universe, these tables will feel right at home for you. It may not be that different from what you have already experienced, but you are bound to get a ton of fun out of it.