The latest eShop title might be the best.
Mutant Mudds, from Renegade Kid (developers of DS first-person shooters Dementium and Moon), is a 2D platformer that plays like the love child of Gargoyle's Quest and Virtual Boy Wario Land. For the most part, the company's freshman platforming effort lives up to that Nintendo and Capcom pedigree. From start to finish, Mutant Mudds is a fantastic game that harbors a lot more depth than you might expect at first glance.
The game puts you in the role of Max, a precocious little kid who, with the help of his dear old Grannie, sets out to eradicate the titular Mutant Mudds. The spectacle-wearing hero can jump and use a jet pack that functions in the same way as Firebrand's flight in Gargoyle's Quest. He also has a water-powered gun that he uses to defeat enemies. The controls are simplistic and easy to use, using just two buttons and the D-pad/Circle Pad.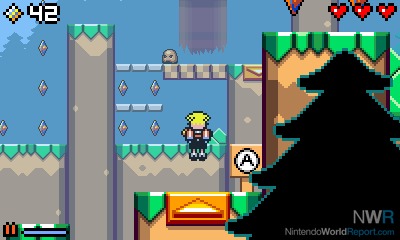 The levels all feature three layers of parallax that truly pop off the screen, as you jump between them at specific points. The graphics are bright and colorful, and benefit the game in a way that makes the 3D in other 2D 3DS games pale in comparison. The music, which feels like it could be ripped out of a Capcom game from 1992, is equally fantastic.
In each level, there are 100 jewels to collect, with which you can get different power-ups that do things such as boost your jump, improve your shot, and let you use your jet pack longer. Additionally, every level also features lovely secret areas that pay homage to the Game Boy and Virtual Boy, with either greyscale or red color palettes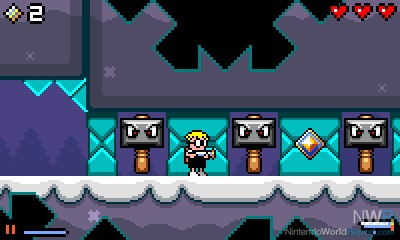 Your main goal is to collect all 40 water sprites, which you gain for completing the 40 different levels nestled throughout the game's five worlds. It is a grand challenge that, on occasion, can get frustrating. However, once you learn the way things work in the world of Mutant Mudds, it clicks. The game particularly opens up once you have access to the power-ups, since then it gives you more flexibility and control over how you maneuver. If you're having trouble with an area, you can usually use one of the power-ups to help you out. Unfortunately, the way the game is designed, you need to pretty much beat the game to unlock all the power-ups.
Mutant Mudds is a top-tier eShop title, and deserves to be played by any fan of 2D platformers. Outside of the 3D effects, it doesn't do anything too radical, but it doesn't have to. Renegade Kid's first 2D platformer is a sweet, sincere effort that will remind you of the great platformers of the early '90s.