If you wanted Virtual Boy Wario Land on the system, this is pretty much it.
Mutant Mudds, a self-published eShop title from Renegade Kid, is a 2D sprite-based platformer with different layers and 3D effects. It has an extremely retro feel, and is a rather traditional game.
Max, the hero of the game, has a water gun and some sort of jet pack. He can jump, fire his gun, and hover. Using these in conjunction, he makes his way through four different worlds with four levels each, fighting off the vile Mutant Mudds. The levels contain water sprites, which are kind of like stars in Super Mario 64, as they open up new levels in each world. Obviously, since the game is smaller, the scope is smaller than Mario 64.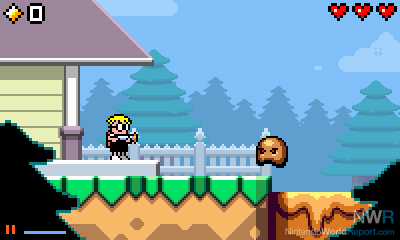 In addition to the four worlds, there is a secret fifth world with another four levels. These levels are unlocked by collecting the gold diamonds located in each level. Collect the 400 diamonds in a world and you unlock one level in the secret world. Adding more content to the fray are hidden levels, which Renegade Kid's Jools Watsham compared to the secret exits in Super Mario World.
The game does feature temporary power-ups in the form of a longer hover, a vertical boost, and a more powerful gun. These can be purchased using the gold diamonds from a store run by Max's tech-happy grandma.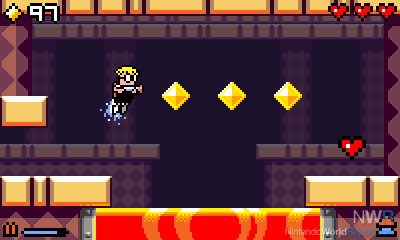 This game feels great. I played three levels of varying difficulty, and I saw a lot of cool tricks in use, such as hammers landing down and appearing to come out of the screen. Watsham's plan is to continually add new twists to the gameplay as the player goes through the game. From the vertical slice displayed at E3 2011, Renegade Kid might be succeeding with doing that. This might very well be the game to get on eShop when it (hopefully) comes out later this year for somewhere in the range of $10.