Is this excellent platformer VVVVVVery good on the 3DS?
VVVVVV originally came out on computers almost two years ago, but relevancy was never the game's focus. It's heavily modeled after old Commodore 64 games, with appealing, simplistic graphics and a fantastic chiptune soundtrack. The 3DS version, which we can thank Cave Story 3D developer Nicalis for, is more or less the original PC game delivered in a dual-screened portable package. For owners of the original, it might not be too exciting, but if you've never played the game, you have no idea what you're missing.
VVVVVV is easily one of the best platformers made in the past decade, and the craziest thing about it is that there isn't a jump button. Instead, your hero, the stalwart Captain Viridian, who must navigate a weird dimension to save his five crewmates (all with names starting with V, hence the name of the game), can only flip gravity to change his orientation. It's very binary (you're either up or down), and you can only switch gravity when you're on stable ground. A lot of the depth comes from moving the character from left to right while he moves.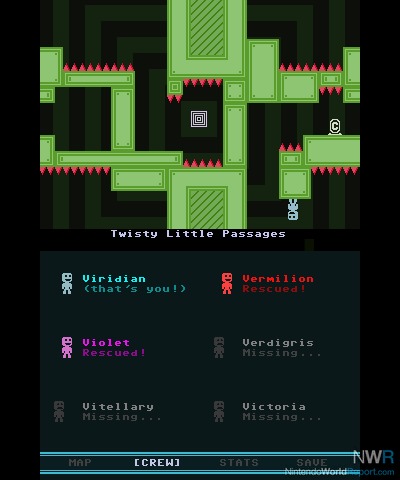 The game features an overworld map, handily displayed on the bottom screen, with different levels sprinkled throughout. These levels introduce new mechanics, such as mid-air lines that change your orientation and blocks that disappear when you step on them. These additions keep the game fresh, though the main game won't take you more than two or three hours.
VVVVVV is immensely challenging, but fortunately, there are plenty of checkpoints throughout the area. Most of the toughest trials revolve around collecting 20 different optional trinkets, which in turn unlocks bonus modes and songs from the game's spectacular soundtrack.
In addition to the main game, which is rather short, there are numerous user-created levels, some made by the creator of the game's soundtrack and even one from the creator of Minecraft. These levels are generally more difficult than the main game, often to the point of pull-your-hair-out frustration. Most of them don't match up to the excellence of the main game, but still add hours of content. Time trials and other optional ways to play the main game are unlocked as you progress as well, including the brutal No Death Mode, which is for sadists only.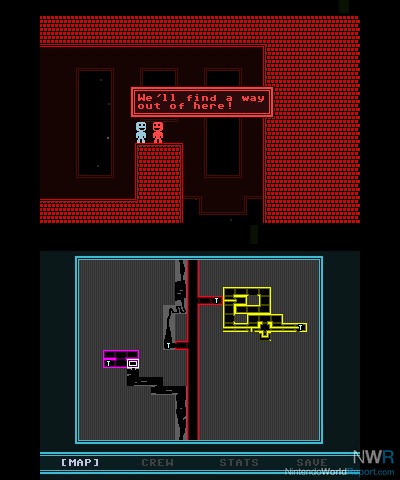 VVVVVV is a spectacular game, and while the 3DS version is a little pricier compared to other available options, it's well worth it if you've never played the game before or want it on the go. This isn't quite the definitive version (it would be closer to that if they add in the online leaderboards and level editor later), but if you're into brilliant retro challenges, this is more than worth checking out.