Atlus's demonic strategy RPG returns for another day on the 3DS.
Exactly two years and two months after its North American release on the Nintendo DS, Shin Megami Tensei: Devil Survivor will see a remake on the 3DS. This version's distinguishing tag is indicative of the host of new features and inclusions - for both aesthetic and content - being added for 3DS players.
The events of Devil Survivor, and subsequently Overclocked, revolve around a ragtag troupe of Tokyo teens caught up in a sequence of predestined tragedy and approaching-apocalypse significance. With the aid of the mysterious and powerful COMP devices entrusted to them, they go about combating the chaotic demon influence quickly spreading throughout the city, enlisting their own cavalcade of monsters to fight alongside them on the way.
Devil Survivor's gameplay motif, which involves a thorough blending of demon summoning and managing with grid-and-turn-based strategy elements, offers a wealth of customization, and tactical experimentation is often a necessity to achieve a battle-specific objective. The human protagonists and their accompanying demon units - each with passive and active talents - make up individual squads, which can be tweaked and swapped to maximize the skills and abilities of each unit in battle. Unit progression can be achieved through a number of means, including leveling up a demon, defeating a certain number of enemies, or through the fusion of two demons, many of which can be acquired at auction with currency collected from won battles.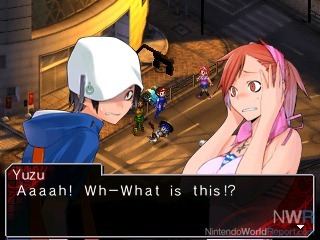 The depth of this battle-specific system is complemented by the separate, chess-like management of units in the battle environment before and after the actual combat takes place. Character-specific actions, including healing friendly units, buffing pertinent abilities, and summoning replacement demons, and placements are as much an ingredient of a successful outcome as a well-targeted skill in battle. While Overclocked will feature some retouched battle portraits and artwork to better suit the higher resolution of the 3DS, the base components of combat will remain unaltered from the DS version.
One particularly distinct change present in Overclocked is the inclusion of extensive voice acting for the entirety of the game's narrative. Much of Devil Survivor's narrative is conveyed outside of battle, in lengthy, often-optional stretches of dialogue between characters, and it appears as if Atlus intends to take advantage of the 3DS hardware to furnish this part of the game's presentation.
Smaller content additions will also include a compendium where any of a party's registered demons can be summoned from again for a fee, an assortment of point-bearing titles earned through in-game accomplishments, and, perhaps most intriguingly, a new eighth chapter to the Devil Survivor story acting as an epilogue to the game's original seven-day narrative arc.
Devil Survivor Overclocked comes out Tuesday, August 23.