We recommend microdosing before this one.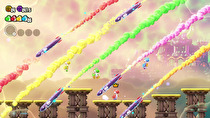 A Direct injection of Mario Wonder information will be hitting in two days.
Nintendo have announced that a 15 minute Direct video will be released on August 31st at 10 a.m. ET / 7 a.m. PT / 1600 CET providing new information on the October 20 release. The announcement was made on the company's Twitter (now known as X for some petulant reason).
It is not known if the video with Shigeru Miyamoto and Charles Martinet promised in last week's retirement announcement will be a part of this presentation.