I hear Chris Pratt is available?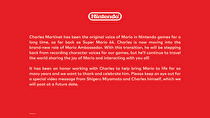 The longtime voice of the Mario franchise is stepping away from the microphone.
Charles Martinet, who has voiced Mario in games dating back to the Super Nintendo and routinely voices other characters in the Mario universe, will retire from doing the voice soon according to a statement by Nintendo. The 67-year old Martinet will become a "Mario Ambassador" according to the statement, and Super Mario Wonder and RPG will likely be the final games featuring Martinet's voice (assuming Mario RPG adds additional voice work).
Martinet's game voice works in addition to Mario include Super Punch-Out, Skies of Arcadia (Legends), The Elder Scrolls V: Skyrim, and Dragon Ball Legend as well as the narrator of Runner 2 and 3.
UPDATE 12:50pm EDT: A Nintendo representative has confirmed to Axios's Stephen Totilo that whoever the new voice is for Mario in games, they will debut in Super Mario Wonder. The last Mario game to release prior to this was Mario + Rabbids: Sparks of Hope - though they may reuse or remaster character speech in the forthcoming Mario RPG and Luigi's Mansion 2 remasters.
UPDATE 5:45pm EDT: We reached out to Nintendo to inquire about other Mario universe projects - specifically WarioWare: Move It! (Nov 3) and the remaster of Luigi's Mansion: Dark Moon. According to Nintendo, Martinet will not appear in the former but will be in the latter. "While Charles is not involved in Super Mario Bros. Wonder or WarioWare: Move It!, we're excited to honor his legacy and contributions, including looking ahead to what he'll be doing as a Mario Ambassador. For the upcoming HD re-release of Luigi's Mansion: Dark Moon, as it is a re-release, Charles's voice will appear in the game." - Nintendo