In Memoriam: Windham Rotunda ("Bray Wyatt") 1987 - 2023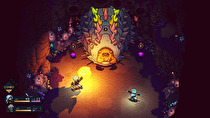 Things we missed last week: Namco's early shooter Bosconian was the Archives release of the week.
Apparently last week was light due to Gamescom, so we're certainly making it up in volume this week; North America is over 40 already. The biggest looking game of the week doesn't have the biggest price tag, but if the scuttlebutt I've heard is any indication Sea of Stars might knock one of Pikmin 4, Theatrhythm Final Bar Line, or Engage off the GOTY podium. (More on that shortly.) We have another pair of long-awaited RPGs in the Rhapsody Marl Kingdom Chronicles compilation, as well as Samba de Amigo: Party Central (which acknowledges lost 3DS title Rhythm Thief in its DLC), another Taito compilation, and Trine continuing to realize lessons that some other series *coughzeldaandsoniccough* should have learned at the turn of the century.
It's also fandisc city this week as both the West (Norm9: Last Era) and Japan get one - which reminds me, with Labour Day this weekend I ought to go back and finish Radiant Tale. Sunsoft has the smallest game that thus far isn't due to come out in stores later with a remake of Trip World.
And of course, help control the pet population; have your pets spayed and neutered.
North America
Retail
Rhapsody: Marl Kingdom Chronicles (US$49.99/C$59.99: Tuesday)
Norn9: Last Era ($49.99/$66.88)
Samba de Amigo: Party Central ($39.99/$52.99: Tuesday)
Agatha Christie - Hercule Poirot: The London Case ($39.99/$45.99: Tuesday)
Taito Milestones 2 ($39.99/$49.99)
Sea of Stars ($34.99/$44.99: Tuesday)
Trine 5: A Clockwork Conspiracy ($29.99/$29.99)
Digital
Big Farm Story ($34.99/$47.99: Friday)
The Bridge Curse: Road to Salvation ($29.99/$34.99: Wednesday)
The Making of Karateka ($19.99/$25.99: Tuesday)
Trip World DX ($19.99/$26.99)
OU ($19.99/$25.99)
30XX ($19.99/$24.99: Friday)
It's A Wrap ($17.99/$23.49)
Catlord ($14.99/$19.99)
Eventide 2: Sorcerer's Mirror ($14.99/$19.49)
How 2 Escape ($14.99/$18.99)
Farming Tractor Simulator 2023 ($14.99/$19.99: Saturday)
Bus Simulator ($13.99/$18.99)
The Thief Simulator 2023 ($13.99/$19.99: Saturday)
Truck Simulator 2023 ($13.99/$19.99: Saturday)
High Sea Saga DX ($12.00/$15.00
Elasto Mania II ($11.99/$15.99)
Subocto ($9.99/$13.22: Monday)
Garden In! ($9.99/$11.49: Monday)
Sakura Fox Adventure ($9.99/$13.99)
1997 ($9.99/$12.99)
Gourmet Warriors ($9.99/$12.99)
Jelly Fruits Adventure ($9.99/$12.99)
Dissolved - Chapter One ($9.99/$9.99)
NecroBoy: Path to Evilship ($9.99/$9.99)
Trapped In The Dim Mansion ($9.99/$12.49)
Baseball Club ($9.99/$11.99)
4x4 Offroad ($9.99/$13.49: Friday)
The Shape of Things ($6.99/$7.99)
Gastro Force ($6.99/$9.99: Friday)
Otoko Cross: Pretty Boys Dropout ($6.99/$8.49: Friday)
Pixel Game Maker Series Ninja Sneaking VS: Battle On The Couch ($6.00/$8.00)
Kalinur ($5.99/$7.89: Wednesday)
Bakerborough ($5.99/$8.05: Friday)
Heart Chain Kitty: All Screwed Up ($4.99/$6.49: Monday)
Sphereout ($4.99/$6.61: Tuesday)
Yakiniku Simulator ($4.99/$6.72)
Buggy Racer ($4.99/$6.57)
Aquapark.io ($4.99/$6.49: Friday)
Hole.io ($4.99/$6.49: Friday)
Paper.io 2 ($4.99/$6.49: Friday)
Masala Drive ($3.99/not releasing)
Dinosaurs: Types & Names ($2.99/$3.99)
Ralph and the Blue Ball ($2.99/$2.79: Friday)
Golf: Hole in One ($2.00/$2.49: Tuesday)
Flupp The Fish ($1.99/$1.97)
Archives
Cadash ($7.99/$9.87)
Sales and Price Drops
Highlights: No Man's Sky is 50% off until September 7. PSPrices, DekuDeals
Europe
Retail
Norn9: Last Era (€49.99/£44.99)
Rhapsody: Marl Kingdom Chronicles (€49.99/£44.99: Friday)
Agatha Christie - Hercule Poirot: The London Case (€39.99/£32.99: Tuesday)
Samba de Amigo: Party Central (€39.99/£35.99: Tuesday)
Taito Milestones 2 (€39.99/£34.99)
Sea of Stars (€33.99/£29.50: Tuesday)
Trine 5 (€29.99/£24.98)
Digital
Big Farm Story (€34.99/£29.99: Friday)
The Bridge Curse: Road to Salvation (€29.99/£24.99: Wednesday)
Adventures of Ben: Rabbit Run (€23.99/£21.59: Friday)
OU (€19.5/£17.59)
It's A Wrap (€17.49/£15.79)
Eventide 2: Sorcerer's Mirror (€14.99/£13.99)
Catlord (€14.99/£13.49)
How 2 Escape (€14.99/£13.49)
Farming Tractor Simulator 2023 (€14.99/£14.99: Saturday)
Mirrored Souls (€14.2/£12.58: Monday)
Bus Simulator (€13.99/£13.99: Wednesday)
The Thief Simulator 2023 (€13.99/£12.99: Saturday)
Truck Simulator 2023 (€13.99/£12.99: Saturday)
High Sea Saga DX (€12/£10.79: Wednesday)
Elasto Mania II (€10.99/£9.89)
Garden In! (€9.99/£8.99: Monday)
Subocto (€9.99/£8.99: Monday)
4x4 Offroad (€9.99/£9.99)
Sakura Fox Adventure (€9.99/£9.99)
1997 (€9.99/£8.99)
Baseball Club (€9.99/£8.99)
Dissolved - Chapter One (€9.99/£8.99)
Gourmet Warriors (€9.99/£8.99)
Jelly Fruits Adventure (€9.99/£8.99)
Bakeborough (€9.99/£8.99: Friday)
NecroBoy: Path to Evilship (€9.75/£8.50: Wednesday)
Trapped in the Dim Mansion (€8.99/£8.09)
Gastro Force (€6.99/£6.99)
The Shape of Things (€6.99/£6.99)
Otoko Cross: Pretty Boys Dropout (€6.99/£6.29: Friday)
Pixel Game Maker Series Ninja Sneaking VS: Battle On The Couch (€6.00/£5.39)
Kalinur (€5.99/£5.39: Wednesday)
Heart Chain Kitty: All Screwed Up (€4.99/£4.49: Monday)
Sphereout (€4.99/£4.49: Tuesday)
Yakiniku Simulator (€4.99/£4.49)
Aquapark.io (€4.99/£4.49: Friday)
Hole.io (€4.99/£4.49: Friday)
Paper.io 2 (€4.99/£4.49: Friday)
Buggy Racer (€4.49/£4.09)
Dinosaurs: Types & Names (€2.99/£2.69)
Boomshine Plus (€1.99/£1.79: Tuesday)
Golf: Hole in One (€1.99/£1.79: Tuesday)
Flupp The Fish (€1.99/£1.79)
Ralph and the Blue Ball (€1.99/£1.79: Friday)
Archives
Cadash (€6.99/£6.29)
Japan
Radiant Tale -Fanfare- (¥7480)
Taito Milestones 2 (¥5720)
Samba de Amigo: Party Central (¥5489)
Atari 50 (¥4500)
Sea of Stars (¥4400)
Trine 5: A Clockwork Conspiracy (¥4389)
The Legend of Heroes: Trails from Zero (¥4378)
The Legend of Heroes: Trails to Azure (¥4378)
The Bridge Curse: Road to Salvation (¥3500)
OU (¥2400)
It's A Wrap (¥2000)
Catlord (¥1999)
Farming Tractor Simulator 2023 (¥1999)
Startup Company: Console Edition (¥1999)
Agatha Christie - Hercule Poirot: The London Case (¥1980)
Nuclear Blaze (¥1500)
Dissolved - Chapter One (¥1499)
Jelly Fruits Adventure (¥1399)
Sqroma (¥1399)
Gourmet Warriors (¥1291)
Forklift Simulator 2023 (¥1200)
High Sea Saga DX (¥1200)
NecroBoy: Path to Evilship (¥1200)
1997 (¥1199)
Gastro Force (¥1100)
Eventide 2: Sorcerer's Mirror (¥992)
The Shape of Things (¥900)
Pixel Game Maker Series Ninja Sneaking VS: Battle On The Couch (¥880)
Cadash (¥838)
Otoko Cross: Pretty Boys Dropout (¥700)
Masala Drive (¥500)
Yakiniku Simulator (¥500)
Dinosaurs: Types & Names (¥469)
Disaster Prevention (¥420)