And the count goes to two. Or one.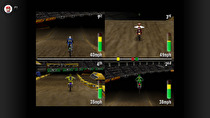 Pokemon Stadium 2 isn't the only addition to the NSO Expansion Pack's N64 library this month.
A trailer has released confirming the next addition will be Excitebike 64; Nintendo of America quoted August 30 as the launch date, which may result in an actual release of late in the evening on the 29th for North America.
Originally developed by Left Field Productions, Excitebike 64 was the first game in the "Excite" series of motorcycle racers since the original Excitebike in 1984.
Only 1080 Snowboarding and Mario Party 3 remain from the last announced wave of N64 titles.