In honor of a television debut 51 years ago today: Help control the lawyer population, have your game show hosts spayed and neutered.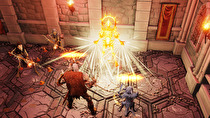 Things we missed last week: Digital Eclipse's The Making Of: Karateka on Tuesday, 30XX on Friday, and Archives title Cadash on Thursday.
Last week ended up in the 50s for release (aside from Japan), so this week is of course on the lighter side. Sadly, we're probably getting Festivus NEXT week (because TGS is the week of the 21st). The theme this week is getting down on the farm, as we have no less than three farm sims on a mid-20s release count: Fae Farm (the game from like, six Nintendo Directs and Opening Night Live), Rune Factory 3 Special (review forthcoming), and Sprout Valley. The other retail release of the week is Anonymous;Code from Spike Chunsoft.
Smaller titles include Indie World veteran Chants of Sennaar, and a building horror theme with No Son of Mine and the boomer shooter Night at the Gates of Hell (from Puppet Combo). A Europe-only (for now) release is Old School, a Bully-like from the creator of Wrestling Empire.
North America
Retail
Anonymous;Code (US$59.99/C$84.99: Friday)
Fae Farm ($59.99/$79.99: Friday)
NBA 2K24 ($59.99/$79.99: Friday)
Rune Factory 3 Special ($39.99/$54.99: Tuesday)
Digital
Forest Crash Party ($30.00/$40.00)
Sheperd's Crossing ($29.99/$29.99)
Chants of Sennaar ($19.99/$26.99: Tuesday)
Strike Force 3 ($19.99/$26.37)
The Many Pieces of Mr. Coo ($19.99/$19.99)
The Dragoness: Command of the Flame ($17.99/$23.99)
Sprout Valley ($17.99/$24.18)
No Son of Mine ($14.99/$17.99: Wednesday)
The Myth Seekers: The Legacy of Vulcan ($14.99/$19.49)
Night at the Gates of Hell ($14.99/$18.99)
Big Adventure: Trip to Europe 4 ($14.99/$14.99)
Old School ($14.99/$19.99: Saturday)
Alchemy Garden ($12.99/$16.99)
Escape From Terror City ($9.99/$11.99: Wednesday)
Into The Sky ($9.99/$14.99)
Seduce Me ($9.99/$13.99: Friday)
Troopers ($9.99/$10.99: Friday)
True Virus ($8.99/$12.11: Tuesday)
Raindrop Sprinters ($8.70/$11.79: Wednesday)
Kovox Pitch ($6.99/$8.99: Tuesday)
Show Ball: Tiger Life ($6.54/$8.85)
RPG Alchemy ($6.52/not released: Friday)
Candlebook Island ($5.99/$7.99: Friday)
Redeemer's Run ($4.99/$6.57)
Crowd City ($4.99/$6.49: Friday)
Nathan Jones and the Eternal Myth ($4.99/$5.99: Friday)
Thunder War Rabbit Alien Fight ($4.99/$6.99: Saturday)
Pinocchio: Interactive Book ($3.99/$4.99: Tuesday)
Colorful Boi ($3.99/$5.40)
The Hunt ($3.99/$5.25)
Hentai Project ($3.99/$4.99)
Color Sense Challenge ($3.99/not releasing)
Pipe Line Project ($3.99/not releasing)
Hansel and Gretel: Interactive Book ($2.99/$3.99: Monday)
Tattoos and Their Meanings ($2.99/$3.99)
Cube Merge 2048 ($2.99/$3.89)
Champion of Fighters ($2.99/$4.39: Friday)
Word Quest ($2.99/$4.39: Friday)
Archives
Zing Zing Zip ($7.99/$9.87)
Sales and Price Drops
Highlights: A "Blockbuster" sale until September 10 includes 40% off the Castlevania Advance Collection and 50% off Sparks of Hope (now with Rayman DLC). PSPrices, DekuDeals
Europe
Retail
Anonymous;Code (€59.99/£49.99: Friday)
Fae Farm (€59.99/£49.99: Friday)
NBA 2K24 (€59.99/£49.99: Friday)
Rune Factory 3 Special (€39.99/£34.99: Tuesday)
Pups & Puurs Pet Shop (€34.99/£29.99: Friday)
Digital
Shepherd's Crossing (€29.99/£26.99)
Forest Crash Party (€27.00/£24.00)
Chants of Sennaar (€19.99/£15.98: Tuesday)
Strike Force 3 (€19.99/£17.99)
The Many Pieces of Mr. Coo (€19.99/£17.99)
The Making Of Karateka (€19.49/£17.59: Tuesday)
The Dragoness: Command of the Flame (€17.99/£14.99)
Sprout Valley (€17.99/£16.19: Friday)
Night at the Gates of Hell (€16.49/£12.49: Friday)
No Son of Mine (€14.99/£13.49: Wednesday)
The Myth Seekers: The Legacy of Vulcan (€14.99/£13.99)
Curse Crackers: For Whom The Belle Tolls (€14.99/£13.49: Saturday)
Old School (€14.99/£14.99: Friday)
Alchemy Garden (€12.99/£11.99)
Escape From Terror City (€9.99/£8.99: Wednesday)
Into The Sky (€9.99/£9.99)
Seduce Me (€9.99/£9.99)
Troopers (€9.99/£8.99: Friday)
True Virus (€8.99/£8.09: Tuesday)
Raindrop Sprinters (€7.99/£6.82)
Kovox Pitch (€6.99/£5.99: Tuesday)
Show Ball: Tiger Life (€5.99/£5.39)
Candlebook Island (€5.99/£5.39: Friday)
RPG Alchemy (€5.99/£5.39: Friday)
Nathan Jones and the Eternal Myth (€4.99/£4.49: Friday)
Thunder War Rabbit Alien Fight (€4.99/£4.99: Saturday)
Redeemer's Run (€4.49/£4.09)
Pinocchio: Interactive Book (€3.99/£3.59: Tuesday)
Colorful Boi (€3.99/£3.59)
The Hunt (€3.99/£3.59)
Cube Merge 2048 (€2.99/£2.69)
Tattoos and Their Meanings (€2.99/£2.69)
Champion of Fighters (€2.99/£2.69: Friday)
Word Quest (€2.99/£2.69: Friday)
Hansel and Gretel: Interactive Book (€1.99/£1.79: Monday)
Archives
Zing Zing Zip (€6.99/£6.29)
Japan
The Quintessential Quintuplets -Five Promises To Make With Her- (¥8580)
Endless Virsch -Epic:Lycoris- (¥7480)
NBA 2K24 (¥6600)
Remnant: From The Ashes (¥5170)
Forest Crash Party (¥3980)
House Flipper (¥3593)
Sprout Valley (¥2587)
Chants of Sennaar (¥2420)
The Making Of Karateka (¥2300)
The Many Pieces of Mr. Coo (¥2160)
Spectator (¥2000)
Coloring Sanrio Characters (¥1980)
Night At The Gates Of Hell (¥1750)
Into The Sky (¥1499)
Ashina The Red Witch (¥1200)
It Starts With A Lie (¥1200)
Escape From Terror City (¥1000)
The Myth Seekers: The Legacy of Vulcan (¥990)
Zing Zing Zip (¥838)
Momoko's Mars Bowling: La Mars Cup (¥800)
Colorful Boi (¥630)
Tattoos and Their Meanings (¥469)
Constellations and Myths (¥420)
Japanese History Puzzle (¥420)
National Common Sense Check (¥420)
Pipe Line Project (¥420)
Tricky Inventions and Discoveries (¥420)
Cube Merge 2048 (¥350)