The last show of a high-octane weekend.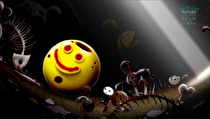 Sunday's final video presentation was the Future Games Show, which unveiled the following for Switch:
Eldest Souls, the action adventure title announced last year, received a release date of July 29.
Doug Cockle (Witcher 3) will be the narrator for side scrolling adventure RPG Tails of Iron, coming to Switch later this year.
A new stage (Tropical Resort Act 2) was shown for Sonic Colors Ultimate (September 7).
After an appearance at the PC Gaming Show, black-and-white swimming game Silt was confirmed for Switch release in early 2022. Notably, Silt's swimmer can possess sea life in order to escape tight spots.
Merge Games will publish DeathRun TV, a "game show roguelike" that rewards likes for kills. No release date was given, but the "pilot episode" can be played on Steam now.
A Tale of Paper (originally launched last October on PS4) is a puzzle platformer with a character made out paper who can transform itself by origami to solve puzzles. It will launch before the end of the year.
Gestalt: Steam and Cinder announced a Q4 2021 release: you can check out Neal's preview here
Dice based city builder Dice Legacy reiterated a summer 2021 launch.
The subversive side scroller Happy Game is set to launch in fall.
Minute of Islands, the side scrolling adventure mysteriously delayed back in March, is out on the eShop now.
Overcooked: All You Can Eat will receive a "Happy Birthday" update on August 9.
New footage was shown for OlliOlli World, which included plane shifting, grabs, and right-to-left skating.
An XSEED reel confirmed Akiba's Trip: Hellbound and Debriefed for July 22, Shadowverse: Champions Battle August 10, and Rune Factory 5 was delayed to "early 2022".
New footage and dev chat was shown for Two Point Campus.
Mystery adventure Conway: Disappearance at Dahliaview will be out this autumn.