And a lot of stuff that we'll hopefully be able to cover eventually.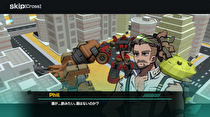 The second event of the Summer Games Fest was the annual "Day of the Devs", traditionally hosted by Double Fine studio head Tim Schafer. The following titles were shown during the show that were anounced, previously or otherwise, for Switch:
A new trailer aired for Axiom Verge 2, which showed off more of a melee focus compared to the original game's shooting. According to developer Thomas Happ, "it'll be out before you know it".
Road 96, which debuted in the last Indie World presentation, also debuted a new trailer.
Annapurna Interactive made two Switch announcements: their adventure anthology Last Stop will release on July 22, and a week later they will host a showcase of their future titles.
Garden Story, which debuted in the August 2020 Indie World, updated to be targeting a release before the end of the summer.
Digerati and French developer Glee-Cheese Studio debuted A Musical Story, a rhythm game with a heavy 1970s aesthetic where successful performance unlocks memories of the main character. It is currently slated for October.
Japanese studio "Throw the warped code out" showed new footage for their co-op destruction game Demolition Robots KK, but no release date was provided.