A five star promo with a five star runtime.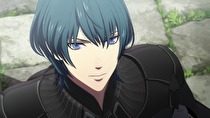 The marketing synergy of Fire Emblem: Three Houses won't be denied.
People who register Three Houses on My Nintendo for gold coins - either through registering the physical copy or downloading the game - and have the same account linked to Fire Emblem Heroes will receive a free copy of Byleth: Tested Professor (the male version). The bonus copy will be claimable until June 29, 2020.
Byleth will appear in summoning focuses as well starting in late July.