Will the change get locked in for the Lunatic difficulty update, or will they wait for the next round of DLC? UPDATED: Received statement from Nintendo of America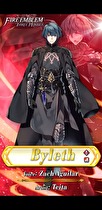 Following confessions of emotional and physical abuse, the voice of the male player character in Fire Emblem: Three Houses has been recast.
As discussed on last night's Nintendo News Report, Chris "Kirbopher" Niosi was originally cast as the voice of the male version of Byleth in Three Houses. Niosi has confessed to multiple incidents of abuse toward friends and loved ones, both physical and emotional, which caused a fan outcry when he was revealed as the voice actor by way of a datamine for Fire Emblem Heroes on Monday. One of the incidents described involved bragging to a victim about his role as Byleth, in violation of a non-disclosure agreement (NDA) signed by all Three Houses voice actors that expired last week. It is not clear if the expiration was planned, or if Nintendo released the other actors following the allegations.
Originally, Niosi's credit was struck from Heroes in an out-of-cycle update yesterday. A new trailer for Male Byleth in Heroes was released overnight, with the voice actor credited to Zach Aguilar (JoJo's Bizzare Adventure, One Punch Man, Judgment). The distribution of Byleth in Fire Emblem Heroes, which actually began yesterday for players who preloaded the digital version of Three Houses, has been temporarily suspended pending the change.
UPDATE: In a statement to NWR, Nintendo of America confirmed that Niosi's voiceover will also be replaced in a future update to Three Houses. The full statement is as follows:
"After assessing the situation, we decided to re-record the character's voiceovers in Fire Emblem: Three Houses and Fire Emblem Heroes with another actor. The new voiceovers will be included in a future patch."