It's a monster mash party!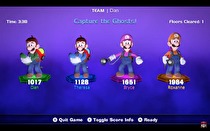 Luigi's Mansion 3 will feature the return of the first game's Portrait Ghosts as well as the 2013 sequel's ScareScraper mode. Developer Next Level Games' Bryce Holliday, who directed Luigi's Mansion: Dark Moon, made an appearance to show off the game.
In the multiplayer ScareScraper mode, up to eight players team up to complete an objective in a timed segment. There is local or online play, running at 30 FPS. There are five, 10, or a random number option of floors to be picked that are procedurally generated as opposed to the random reuse of existing rooms in Dark Moon. You can use the voice chat app on the Nintendo Switch Online app as well. Every floor is timed at five minutes, with a different objective on each floor. An example objective is capturing all of the ghosts, finding all of the Toads and escort them to E. Gadd, and collecting a certain amount of money. Pearls from the original Luigi's Mansion make a return as a collectible currency.
Gooigi is also in the mode as well, making a solo experience easier, but the mode is still meant for multiplayer. If you're playing with less than four players, each one can summon their own Gooigi. If there are eight players, four of them will be Gooigi instead though, presumably meaning there can only be four Luigis total.
While cooperative, there is a score component to each player. Collecting red coins at the end of each floor's objective does not appear to return from Luigi's Mansion: Dark Moon's ScareScraper. This was how power-ups were distributed, which appear hidden throughout the floors this time. Examples include the Super Suction, which deals more damage to the ghosts, the Super Strobe which strobe all the ghosts in a room, and a Trap Detector Helmet that helps track any traps.
Lastly, Holliday discussed listening to the criticisms of Luigi's Mansion: Dark Moon by reading reviews and listening to feedback on forums. Elements of the original Luigi's Mansion have been brought into the single player campaign, most notably the portrait/character ghosts that Holliday said totaled a few dozen.
Luigi's Mansion 3 is due out later this year.