Check out those movie posters!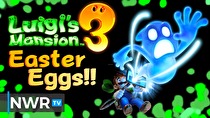 Luigi's Mansion 3 was shown off on the Treehouse at Nintendo's E3 2019 show. While demonstrating a "movie theater" level, a few movie posters on the wall showcase some familiar references to other games worked on by Next Level Games.
Mario from the 2005 GameCube title, Super Mario Strikers
Mario and co. from the 2007 Wii title, Mario Strikers Charged
The boxer from the Bronx, Little Mac, from the 2009 Wii title, Punch-Out!!
Luigi and King Boo from the 2013 3DS title, Luigi's Mansion: Dark Moon
And we couldn't figure out the one on the far back left. It looks like a wolf or some creature, potentially a boss later in the game? Or maybe it's related to the 2016 3DS title, Metroid Prime: Federation Force? Let us know what you think it could be!