Which is more shocking?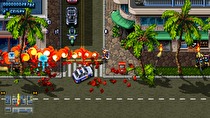 May 7 just got a jolt of retro action and high-speed puzzling.
Sega struck first for May 7 with the release of Puyo Puyo Champions, a localized version of the recently releases Puyo Puyo eSports in Japan. The competitive version of Sega's nearly 30 year old puzzle franchise will release for US$9.99 or equivalent.
Joining Puyo Puyo will be vBlank's Shakedown Hawaii, at least for the Switch. The follow up to 2012's Retro City Rampage trades in the 8-bit inspired graphics for more SNES-era visuals. The last game from the first Switch Indies Showcase to release will hit Switch first, with a promised 3DS version to follow at a later date.