"Oh, this is gonna be a light week." "Why must you turn this news section into a house of LIES?"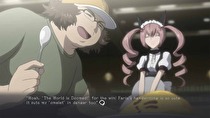 So much for the easy week, huh?
Yeah, I'm never believing that again. I think the list nearly doubled between the Direct and people who think shadowdropping stuff on Thursday/Friday is a good idea.
What's the opening gambit for this week, then?
I've actually been playing this week's big release, Steins;Gate Elite, for review so that'll be up soonish. Aragami, QUBE 2, and Yume Nikki all seem solid on the surface, and a couple of them actually got physical releases if that's your bag. And Trine 2 is out... roughly now, if you're in Europe.
Any interesting foreign releases before the list?
Phoenix Wright trilogy is out there, and somehow the game based on a Japanese animated porn video doesn't have the most restrictive CERO rating because of sexy shogi.
North America
Switch Retail
Steins;Gate Elite (US$53.99/C$68.03: Tuesday)
Q.U.B.E 2 ($29.99/$38.99)
Aragami: Shadow Edition ($29.99/$36.99)
Switch eShop
The Journey Down Trilogy ($39.99/$50.39)
Devil Engine ($19.99/$25.19)
YumeNikki: Dream Diary ($19.99/$25.19)
X-Morph Defense ($19.99/$24.99)
Trine 2: Complete Story ($16.99/$20.99: Monday)
Hell Warders ($14.99/$18.89)
BlazeRush ($11.99/$14.90: Tuesday)
Warplanes: WW2 Dogfight ($9.99/$12.99)
Duck Hunting Challenge ($9.99/$12.59: Friday)
Tyr: Chains of Valhalla ($9.99/$12.50: Friday)
Almost There ($9.99/$11.49)
Quest for the Golden Duck ($9.99: Friday)
Gigantic Army ($8.99/$10.99)
Croc's World Run ($5.99/$7.99)
Pizza Parking ($5.99/$7.55: Tuesday)
Raining Coins ($5.99/$6.99)
Caterpillar Royale ($4.99/$6.29: Tuesday)
Rotating Brave ($4.99/$6.29)
Surfingers ($4.99/$5.99)
Daggerwood ($4.99/$5.99: Friday)
I wanna fly ($2.42/$3.01: Wednesday)
Switch Archives
The King of Fighters 2003 ($7.99/$9.87)
Arcade Archives Vs Ice Climber ($7.99/$9.87: Friday)
Sales and Price Drops
Highlights: To celebrate the release of Deltarune, Undertale is 33% off until the 27th. Spreadsheet
Europe
Switch Retail
Steins;Gate Elite (€59.99/£53.99: Tuesday)
Aragami: Shadow Edition (€29.99/£24.99)
Q.U.B.E 2 (€26.99/£22.99)
Switch eShop
The Journey Down Trilogy (€39.99/£35.99)
Mutant Football League: Dynasty Edition (€26.49/£: Wednesday)
YumeNikki: Dream Diary (€19.99/£17.99)
Devil Engine (€19.99/£17.99)
X-Morph Defense (€19.99/£17.99)
Trine 2: Complete Story (€16.99/£15.29: Monday)
Hell Warders (€14.99/£10.99)
BlazeRush (€11.99/£10.79: Tuesday)
My Arctic Farm 2018 (€9.99/£8.99)
Warplanes: WW2 Dogfight (€9.99/£8.99)
Gigantic Army (€8.99/£8.09)
Almost There (€8.19/£7.19)
Raining Coins (€5.99/£4.99)
Daggerwood (€4.99/£4.99: Friday)
Rotating Brave (€4.99/£4.49)
Croc's World Run (€4.99/£4.99)
Caterpillar Royale (€4.99/£4.49: Tuesday)
I wanna fly (€1.99/£1.79: Wednesday)
Switch Archives
The King of Fighters 2003 (€6.99/£6.29)
Arcade Archives Vs Ice Climber (€6.99/£6.29: Friday)
Japan
GIRLS und PANZER Dream Tank Match DX (¥8208)
Soikano ~Gyutto Dakishimete~ (¥5980)
Gyakuten Saiban 123 Naruhodo Selection (¥3300)
Aragami: Shadow Edition (¥2980)
de Blob 2 (¥2980)
Devil Engine (¥2050)
YumeNikki: Dream Diary (¥1980)
Feudal Alloy (¥1500)
30 in 1 Game Collection Vol 1 (¥1500)
Lichtspeer: Double Speer Edition (¥1000)
Challenge from Greco: Hall of Kanji and Obakashi (¥1000 ea)
Smashing The Battle (¥999)
Alex Kidd in Miracle World (¥999)
Almost There (¥990)
The King of Fighters 2003 (¥823)
Arcade Archives Vs Ice Climber (¥823: Friday)
Oshiete Onedari Shogi (¥800)
Rotating Brave (¥500)